Every now and then, I scan the map to find places that can be added to my where-to-next list. The more secluded, unspoiled the place is, the more interested on that place I become.
One day, while I was scouring Google Maps, zooming in to the map of Cebu Province, Philippines, I stumbled upon a tiny island that awakened the wanderlust in me. After doing a little bit of research about the island, I knew right away that I wanted to go there.
The next thing I knew, I was already having fun under the sun, enjoying the white-sand, pristine beaches of the heavenly Carnaza Island.
Carnaza Island in a nutshell
Carnaza Island is a 175-hectare turtle-shaped island (when viewed from above) located off the northern tip of the mainland Cebu. With just a few thousands residents, many of the places in the island remain unspoiled. And, according to the tour guide who helped me roam around, the biggest area of the island has been acquired by the Osmeñas, a prominent clan in Cebu – the reason why a vast land area remain untouched. Except for that portion where a community of locals settled in and the areas owned by the Osmeñas and some by very few other prominent families, the rest of the island is timberland, which means they cannot be owned.
Why visit the island
If you love to go off the grid, if you want to experience a secluded place with someone you love, or if you just want to enjoy pristine beaches, crystal clear water, amazing rock formations, and gorgeous sunsets, then, definitely, you should come visit Carnaza Island.
Compared to the way popular Boracay, El Nido, or Siargao, the island isn't that touristy and the one cited reason is its location – 2-hour by a boat ride from mainland Cebu. Nevertheless, the island is a paradise on earth.
Things to do in Carnaza Island
First, I'd say that the best way to get around the island is through a guided motor bike tour most especially if it is your first time. For only Php 150 (USD 3), you can have someone to drive you around who also can double as your photographer. The tour is good for two hours, but you can negotiate for an extended time for a little additional fee.
If you do not mind roaming around by foot, you can also do that. However, you might find the roads there pretty confusing as there are no signs. Some roads are winding and with a number of intersections. And very few people around to ask for direction.
So, without further ado, here are some things to do in Carnaza Island
Enjoy the pristine beach at Carnaza Eco-Park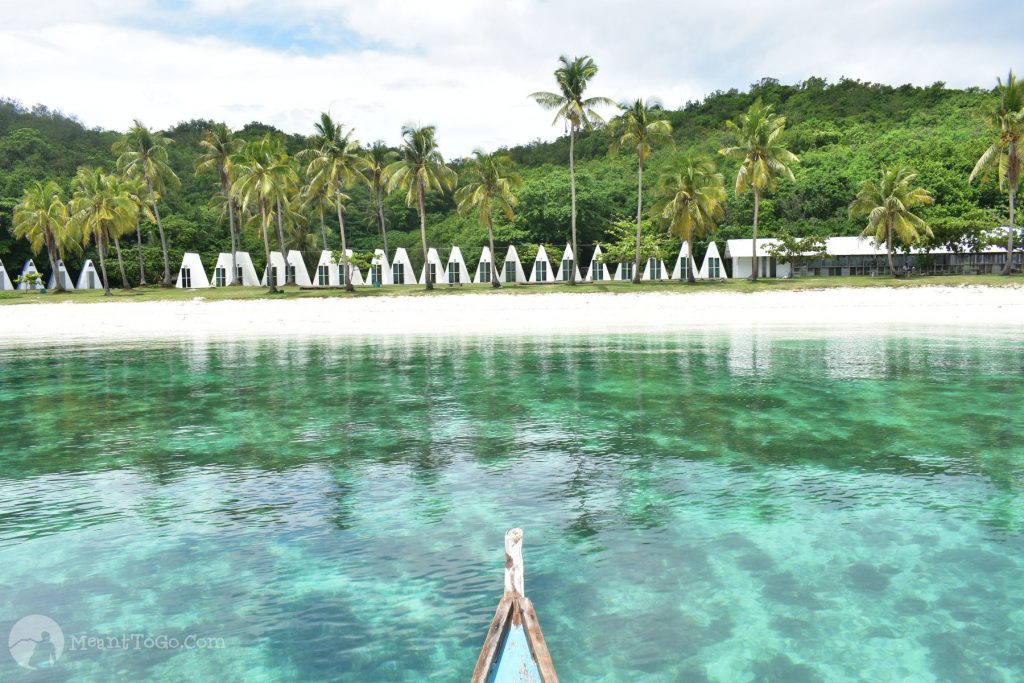 Without doubt, Carnaza Island has some of the best beaches you can find in Cebu. The long stretch of beach of the Carnaza Eco-Park is one proof. The resort is gifted with white sand beach, crystal clear water, and breathtaking surrounding landscape.
Aside from swimming and snorkeling, the resort also a perfect place for water paddling.
Get a bird's eye view of the island or do some meditation at the Osmeñas' helipad.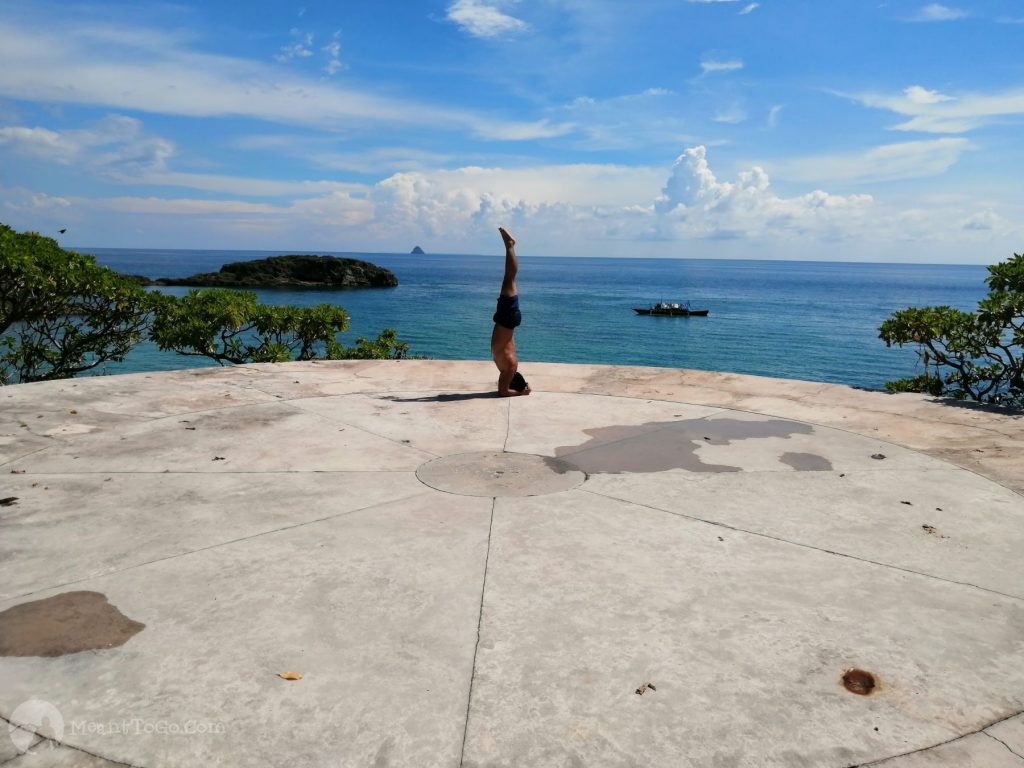 If you are into yoga, the best place you can practice is on the Osmeñas' helipad because the area is quite wide and flat; plus, you get the best panorama of the island.
There is actually two helipads I saw in the island. One was near the Skull Cove (above photo); the other one was at the Carnaza Eco-Park. In other words, you have two nice places to do your sun salutations.
Get a glimpse of Carnaza's history at Skull Cove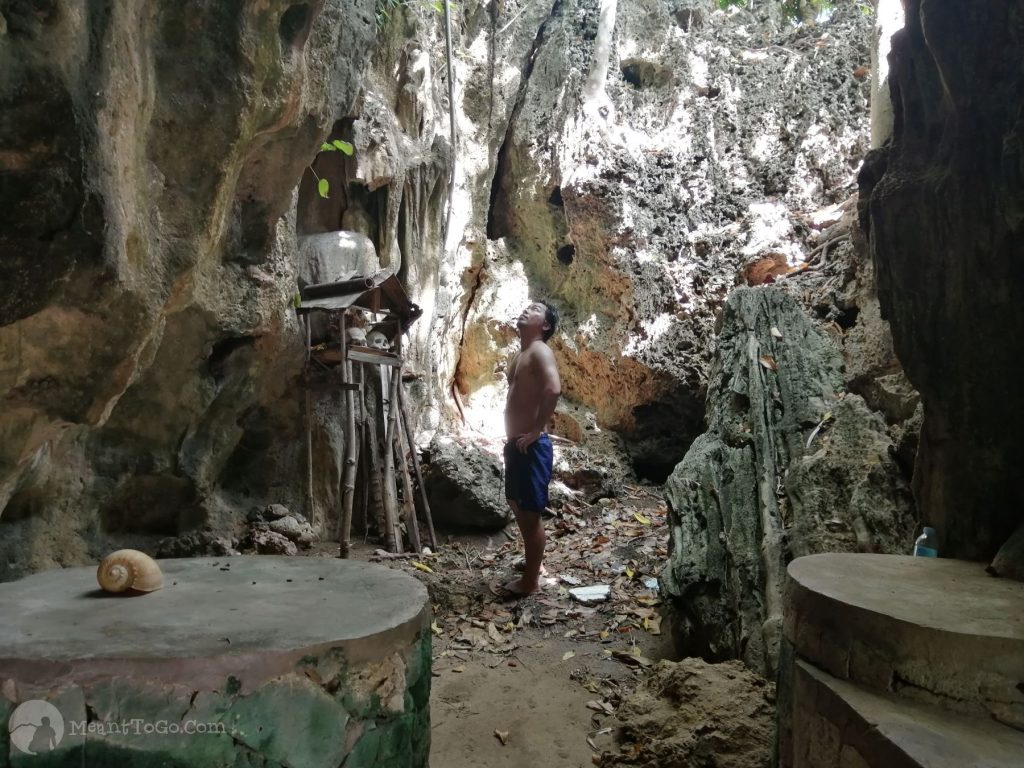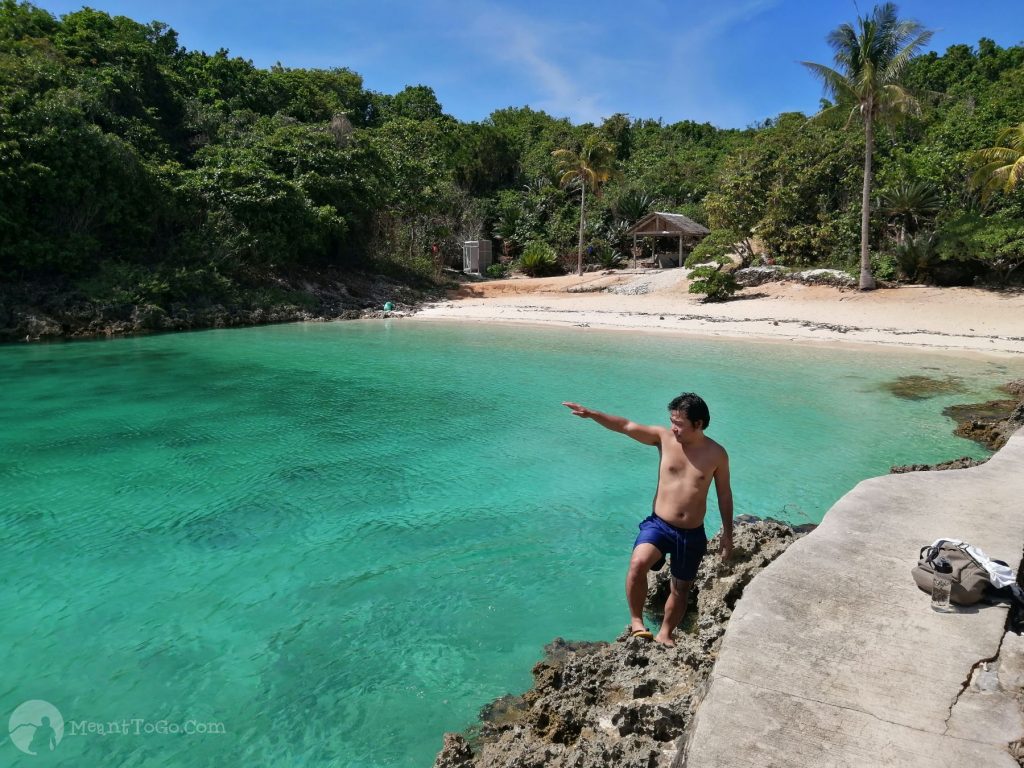 You can do a number of things at the Skull Cove. Aside from visiting the helipad and enjoying the emerald-green crystal clear water of the Cove, you can also get inside the cave in the area where real human skulls and bones can be seen. These bones, stories in the island have it, are from the remains of the a couple who died battling leprosy a long time ago. They were cast away from the community and found solace at the cave, which is now part of the place called the Skull Cove.
Have fun with locals at Twin Beach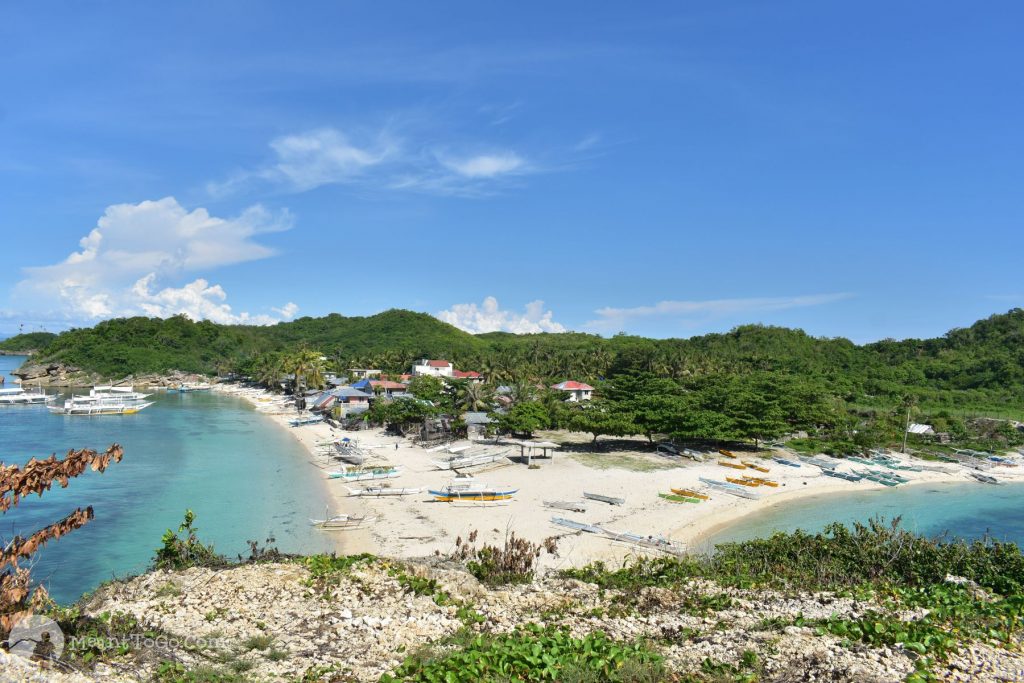 It is pretty rare to see two beaches facing each other, but you can see (and enjoy) such a scenery in Carnaza Island – at the Twin Beach. They also call it "Liog-Liog" Beach as it looks like a neck. (In Cebuano language, liog means neck). As with the other beaches in Carnaza, Twin Beach features white-sand shores and crystal clear water. And, because it is near a local community, you get a chance to interact with them to know more about their ways of island living, and just have some fun with them.
Be mesmerized by its rock formations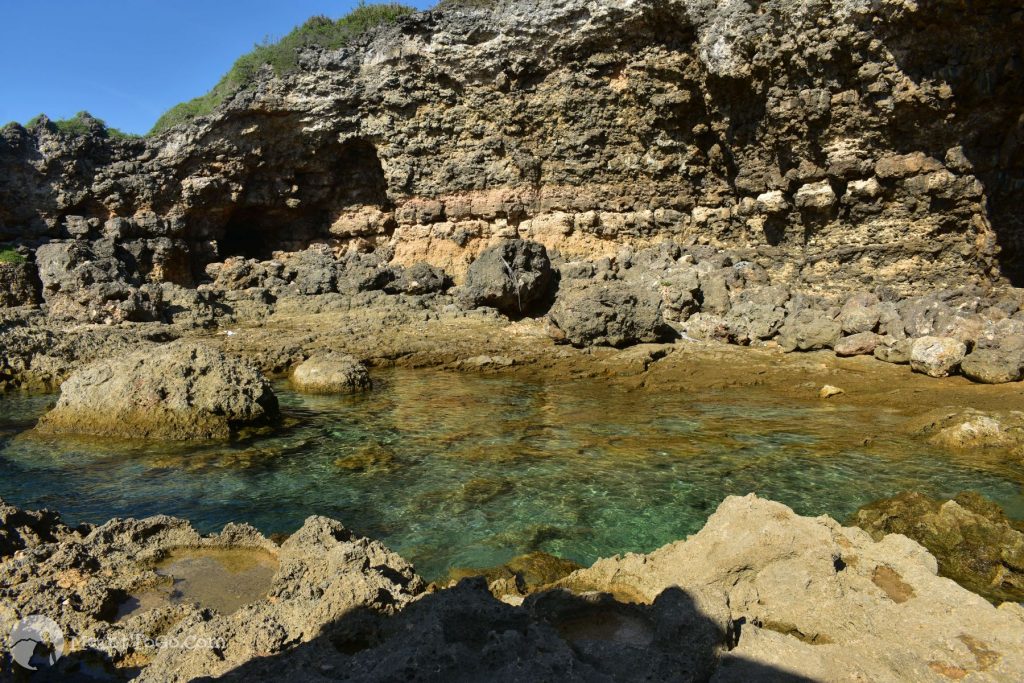 Carnaza isn't just gifted with beautiful beaches but breathtaking rock formations and limestone as well. After visiting Liog-Liog Beach, venture further and climb up the hill next to it. There, it gives a breathtaking panorama of the island and beautiful rock formations as they embrace the waves. Please note, however, that these rock formations feature jagged limestone that requires good, sturdy footwear – like rubber sandals instead of the usual flip-flops or slippers – to avoid injury.
Watch the golden sunset at Kailina Beach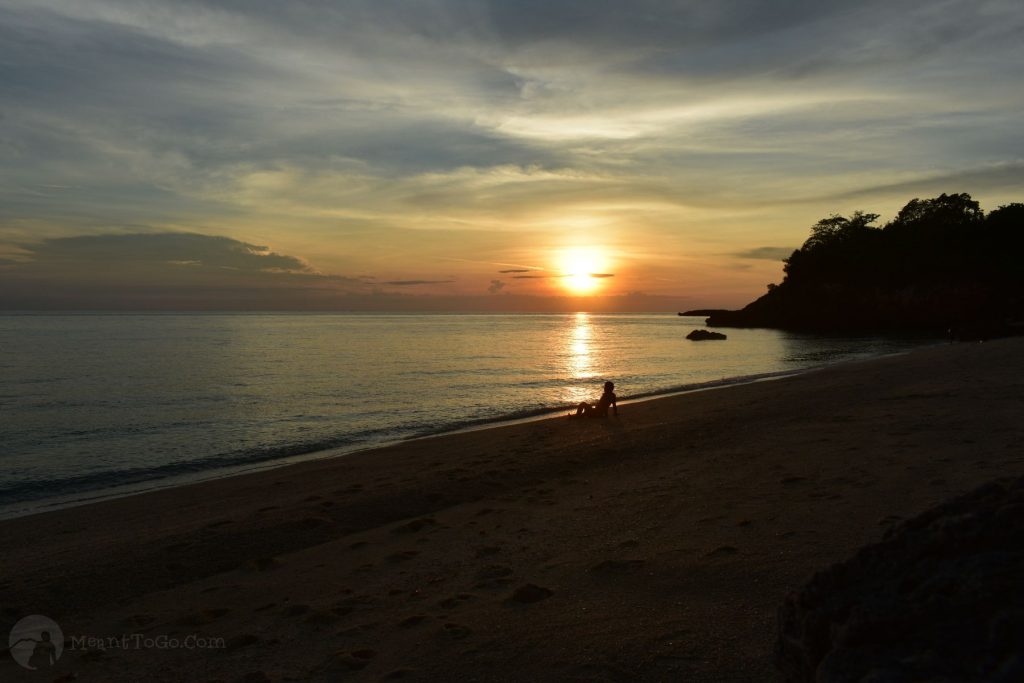 If you love beautiful sunsets, Kailina Beach is one of the best spots for that when visiting the island. The place is managed by a person named Kuya Eddie. For only 20 pesos entrance fee, you can enjoy not only a perfect sunset but also the beach that seems therapeutic. Truly, Kailina Beach is a place that you should not miss visiting when you are in Carnaza Island.
Stargazing by the beach
On a clear night sky, you can enjoy seeing stars as they sparkle up above. So, if you are in the island, linger for a bit more outside when the weather is good before taking a rest. If you are into night or astro photography, you will never regret visiting the island.
How to get there
From Mactan-Cebu Airport, head to the North Bus Terminal (the most convenient yet economical is to take a MyBus ride, which you can easily find near the domestic arrival area, and alight at SM City Cebu . From there, you can either ride a jeepney or take a taxi to bring you to the NBT)
From NBT, hop on a bus bound for Maya/Kawit; alight at the junction going to Tapilon Port in Daanbantayan
From Tapilon Port, ride on an out-trigger boat to Carnaza Island
You are there! Again, there is only one resort in the island (Carnaza Eco-Park); you can book in advance your accommodation at the said resort. However, there are also locals who are willing to rent out their spaces for those who are staying overnight.
Sample Budget (per person)
| | |
| --- | --- |
| Mactan-Cebu Int'l Airport to SM Cebu and back (MyBus fare) | 40 x 2 = Php 80 |
| SM Cebu to North Bus Terminal | Php 80 |
| North Bus Terminal to Tapilon Port  | Php 226 |
| Tapilon Port to Carnaza Island and back (outrigger boat) | 200 x 2 = Php 400 |
| Tapilon Port to SM City Cebu  | Php 226 |
| Accommodation (Carnaza Eco-Park) | Php 100 |
| Entrance Fee (Carnaza Eco-Park) | Php 200 |
| Food for 2 days  | Php 500 |
| Motorbike island tour | Php 150 (good for 2 hours) |
| Entrance Fee (Kailina Beach) | Php 20  |
| Total | Php 1,982 |
Some useful tips
It is highly recommended that you bring your own food (yes, including enough drinking water) from the mainland. Again, the island is small and therefore, it is understandable that people there also source their food supplies from the mainland. You may not find what you are looking for to eat in the island. Or, if you find one, chances are that the price is way higher.
If you bring your own food, it is recommended that you bring with you your own portable cooking set as well as cooking fees in the island is pretty expensive. At Carnaza Eco-Park, for instance, the fee is between 300-600 pesos for breakfast and lunch or lunch and dinner, depending on the number of persons you have in your group. However, if you come all the way from places other than Cebu, paying somebody in the island to cook your food may be more practical than bringing a cooking set with you.
There are a few boat schedules going to and from Carnaza Island, so it is best that you come at the Tapilon Port as early as 7am to secure your slot.
MeantToGo, as always, is an advocate for environmental protection. It is encouraged not to use single-use plastic. If ever you bring one, take it back with you as you leave the island. Leave only footprints, as the popular adage says.
Here are some more photos to give you a glimpse of what Carnaza Island has to offer.
If this travel guide has helped you in one way or the other, please share. Thanks!