Siargao is a group of islands in the south-eastern region of the Philippines. Though separated by a 3-hour ferry-ride from the mainland Mindanao, it still forms part of the Surigao del Norte province.
Siargao is gifted with the winds of the Pacific, which explains why it is tagged as the surfing capital of the Philippines. Big waves draw thousands of tourists – local and foreign alike – into the island on a daily basis, but more during surfing festival, which is held around late September each year.
The continued growth of tourists arrival in Siargao is a feat that not only the tourism officials should be proud of but the Filipino people as a whole.
THINGS TO DO IN SIARGAO
While the concentration of tourists is found in General Luna (where the popular surfing area Cloud 9 as well as party places are located), there are actually a lot of attractions throughout the island. There are many places to visit and lots of fun activities that can be done.
If you are visiting Siargao for a week, for instance, you should not miss experiencing the following.
Island hopping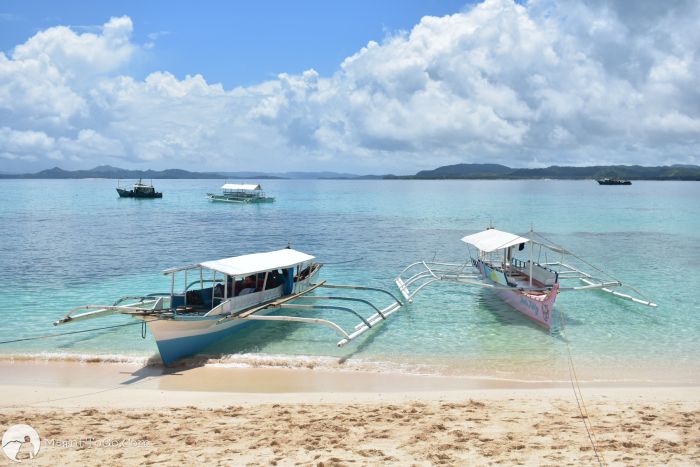 This activity usually takes a whole day – from sunrise to sunset. You get a chance to see beautiful islands and sandbars. The most popular are the Naked Island, Daku Island, and Guyam Island. Make sure you bring with you enough water and food for hydration and to avoid exhaustion. Bring enough sunblock as well most especially that you are going to spend most of your time having fun under the sun.
Dive into the emerald-green waters of Sugba Lagoon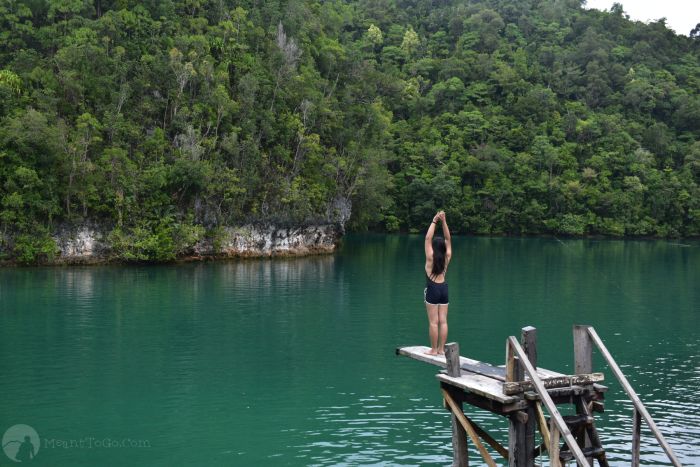 Sugba Lagoon is reached via a 30-45 minutes boat-ride through the winding mangroves-abundant waterways. This itself is an attraction to behold.
Upon reaching Sugba Lagoon, you would realize that it is nestled well-hidden amidst several islets and not easily accessible by the general public. In fact, the number of tourists (my boatman told me) is limited to only 200 per day. So, at any given day, be there at the local tourism office early to get there ahead of the surge of other tourists.
A number of activities you get to enjoy in Sugba Lagoon, including kayaking, paddling, and diving into its emerald-green waters from its famous, heavily-photographed wooden diving platform.
(Read my Sugba Lagoon Travel Guide for more details)
Take a plunge into the majestic rock pools of Magpupungko
Yet another attraction in Siargao that should not be missed by tourists is Magpupungko – a seaside destination that features several rock pools and tidal flats. This area in Siargao is best viewed during low tide – the time when rock formations and rock pool shapes become more defined.
Apart from rock pools, tidal flats, and beautiful rock formations, you get to enjoy the giant waves in the area as well, splashing into the edges of shore brought about by the waters blown in by the Pacific winds.
(To learn more about this attraction, please do read my Magpupungko Travel Guide.)
Chasing the elusive Taktak Falls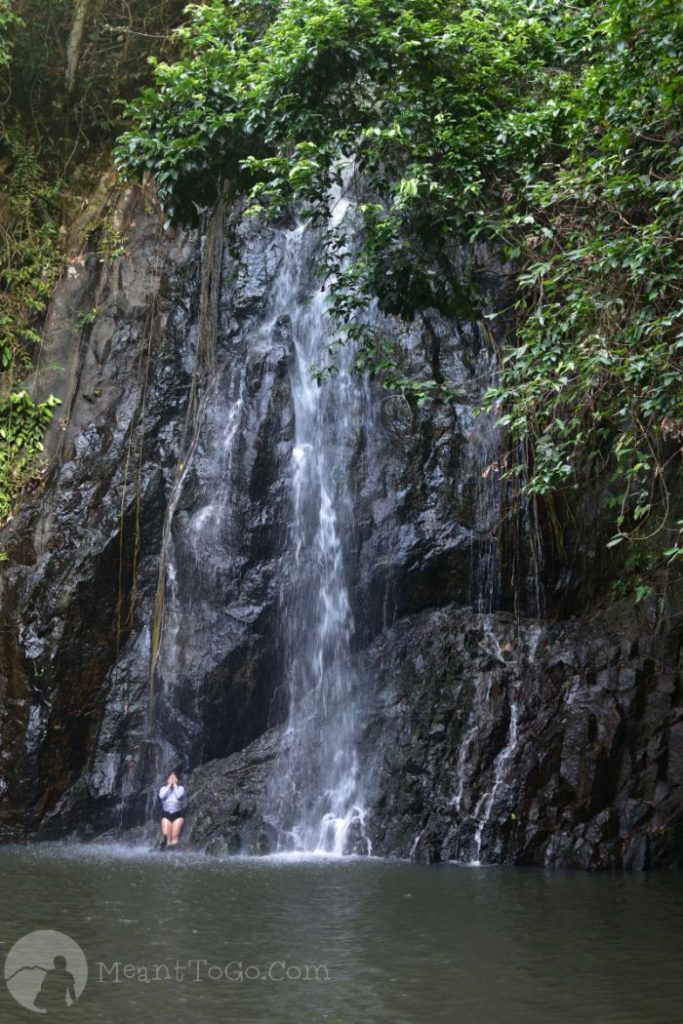 In the northern tip of the main island of Siargao, there lies another attraction you might want to include in your Siargao escapade – the Taktak Falls of Sta. Monica. Getting there from General Luna could take about 1.5 hours by ride. Though the pool of waters below this 15-meter high falls isn't that enticing to many tourists (it's brown-nish), it is considered a perfect place for those who are into cliff diving. It is said to be the sole waterfall in the island, so that is another reason to visit the place. And who knows? There are still many areas remain unexplored in the island, news might just reach you that there are newly-discovered ones around the area.
Scale up your adventure at Tayangban Cave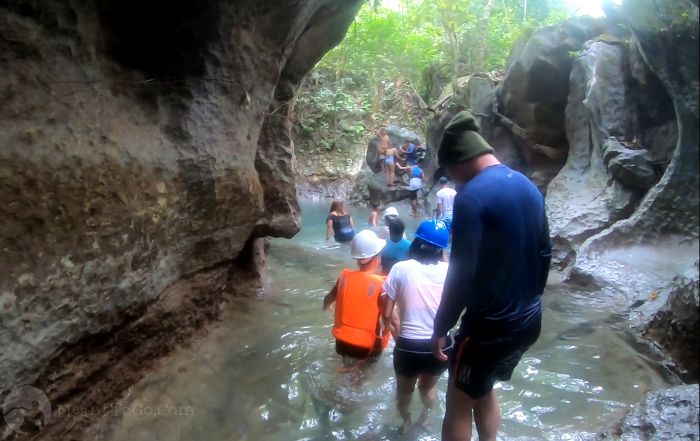 Another inland adventure that will surely challenge your physical stamina – venturing into Tayangban Caving. The cave system is quite short; it runs through just below a cross-section of the main road, which is why the caving usually is finished under 30 minutes or so. But the experience is still exhilarating. You get to pass through winding, narrow passages, and requires your body to be partially submerged in a waist-high cold water to be able to finish the trail. And the best part? (spoiler alert) You get to enjoy the fresh water pooling at the last portion of the cave system. And it gives you Kawasan Canyoneering feels. You get refreshed and renewed after going through difficult passages of the cave.
Challenge yourself into a coconut swing adventure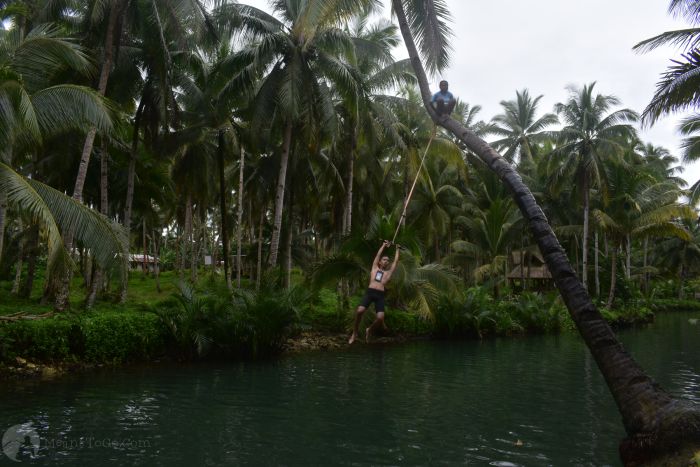 Venture more inland and immerse yourself with more local feels at Maasin River. The spot is popular for river cruising and swimming. But if you are adventurous enough, why not try the coconut swing setup there? I bet you find this not just enjoyable but an activity that could bring back fun memories from your carefree childhood years.
Skateboarding at Bravo Beach Resort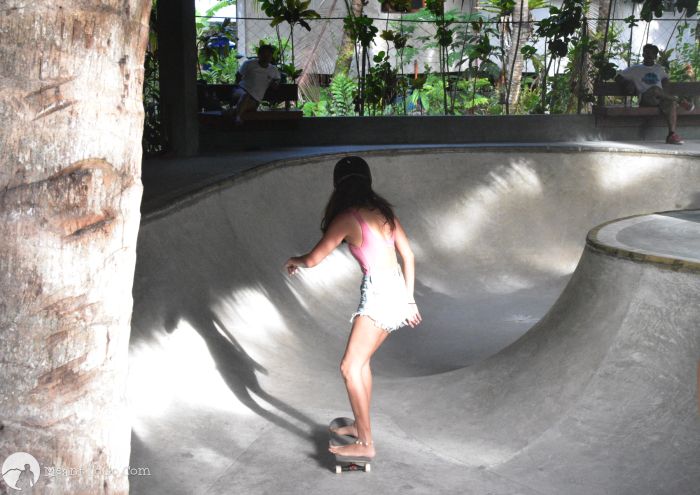 Okay, I am not – in any way – affiliated to this resort, but if you love skateboarding, I'd say this is the place you should try in Siargao for that. Skateboard enthusiasts converge at the area they call a skate bowl to witness or try this adrenaline-rush activity. I enjoyed it myself – watching skateboarders gliding on the curving surfaces of the skate bowl.
Take a fun ride through the island's circumferential road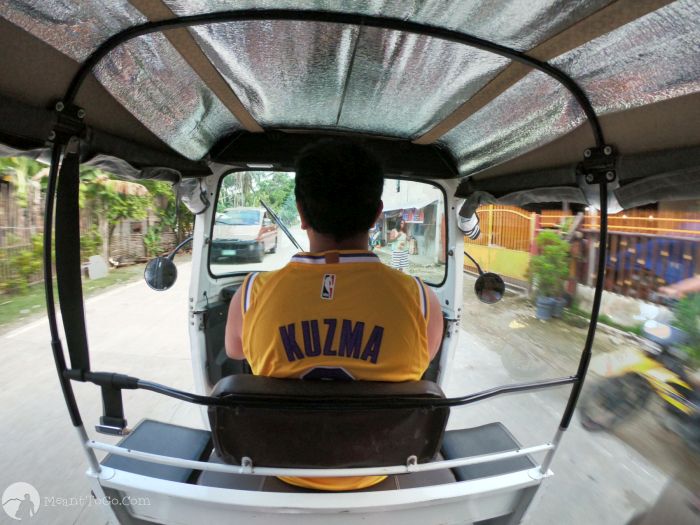 Again, beautiful scenery can be found not just along the beach, even in places by the road are an attraction as well (green palm/coconut trees along the road are abundant and are quite pleasing to the eye). So, if you like long drives, get your driver's license ready, rent a motorbike or a bingo (a three-wheel vehicle) and hit the road for a fun ride. Completing the circumferential road could consume your time from sunrise to sunset (with some stopovers at spots along the road that you might not be able to resist dropping by – e. g. the coastal roads facing the Pacific).
Ride the waves at Cloud 9 Surfing Resort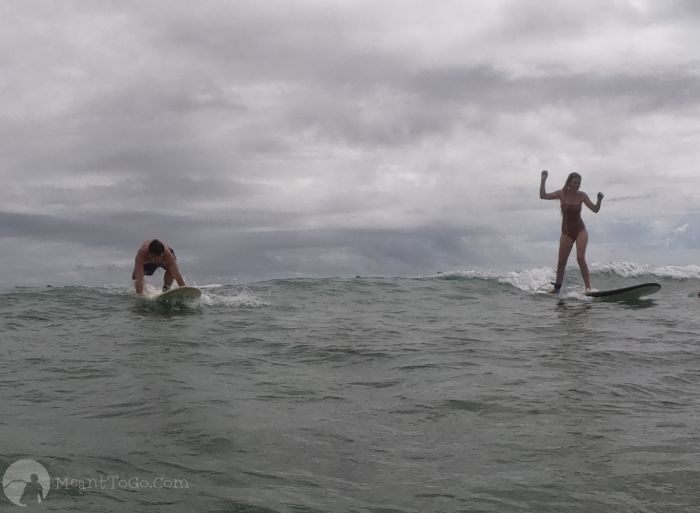 Lastly, your Siargao vacation would not be complete if you do not try surfing. There are a number of surfing lesson providers in the area. You can start with a one-hour surfing session with a dedicated instructor. If you are a pro, you can just rent a surfing board and venture farther into the deeper areas of the sea where, of course, bigger waves await you.
If surfing isn't your cup of tea (though I encourage you to try it, and with only a registered instructor), you can still enjoy this surfing spot strolling by the beach, have a tropical island drink, or just enjoy seeing waves at the boardwalk.
WHERE TO STAY IN SIARGAO
There are lots of accommodations in Siargao to choose from – from a budget hostel to a luxurious resort. I would encourage you to settle your accommodation booking ahead of time as there is a possibility that it becomes scarcer and scarcer as the date goes nearer and nearer to your vacation schedule. Try do some search at booking. com or agoda.com – some of the biggest accommodation comparison websites out there to date.
Here are some budget accommodations you might want to try:
More budget accommodations in Siargao to choose from.
During my visit, together with friends, I stayed at Secret Paradise Resort in Dapa – a rather unlikely choice by many tourists arriving in Siargao.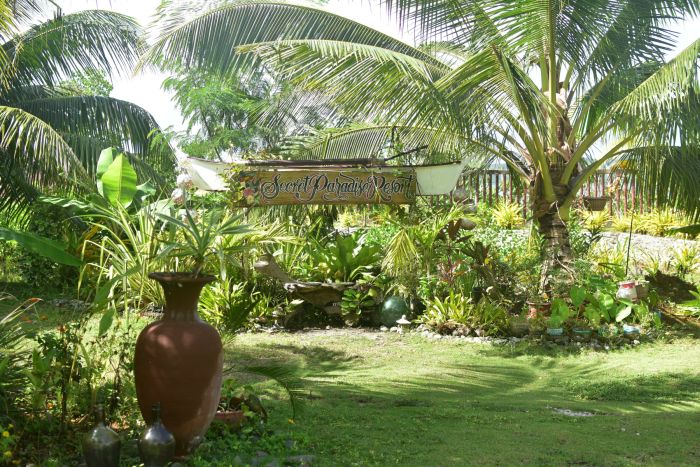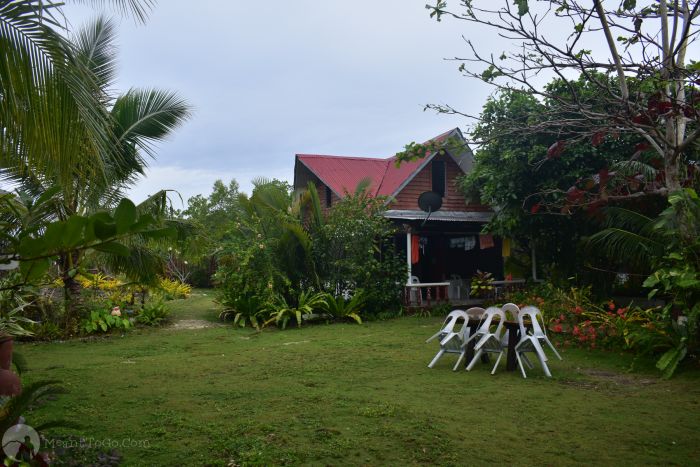 I would not debate with other tourists who are staying in General Luna regarding their accommodation of choice. For sure, there are plenty of good accommodations in there. It just boils down to personal preference when we choose, right?
In our case, we did choose to stay at Secret Paradise Resort for a number of reasons, including the following:
It is closer to the public market of Dapa; it was advantageous to us as we prepared our own food a lot; in just a few minutes ride from our location, we could have food at way cheaper prices.
It brings you more local feels because the neighborhood is a community of locals as opposed to a pretty crowded touristy General Luna.
Way cheaper option yet a decent one
It is homey and peaceful; the owner was generous to us; she would just allow us to make use of her kitchen for food preparation; she was very helpful all throughout.
Note: The resort offers a package, which includes accommodation+tours. We paid Php 5,500 each, inclusive of accommodation for 6D/5N and tour rates.
The place is highly recommended for those visiting in Siargao in a group of 5 or 10.
WHERE TO EAT IN SIARGAO
As mentioned, during our visit, we prepared our meals most of the time, particularly during breakfast and dinner. When we were out and about, we ate lunch outside (instead of going back to our accommodation and prepare it ourselves). But we made sure that we would spend at dining destinations that were worthy of our budget.
I would recommend the following:
Barrel Sports Bar
General Luna, Siargao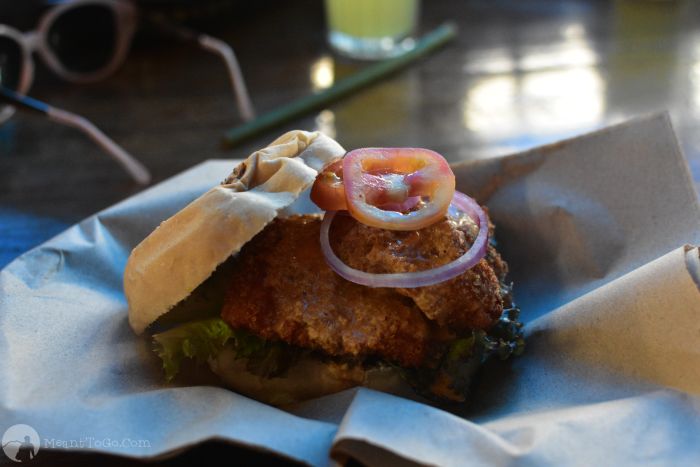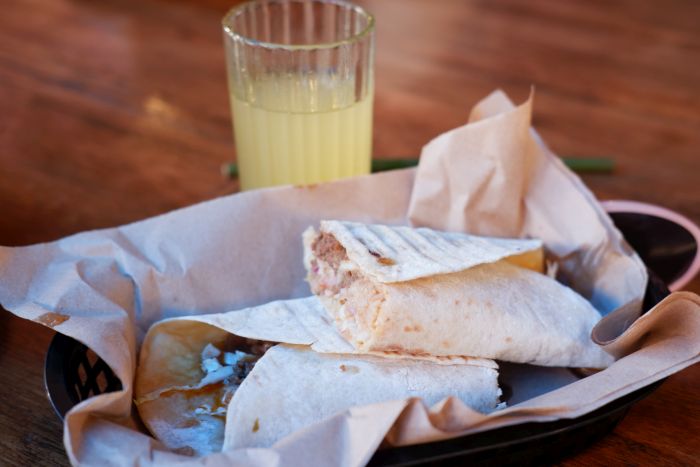 This resto bar serves a wide array of menu items – from breakfast to late-night menu items. They've got a variety of burgers, rice meals, pasta, and more. You definitely should try their burrito selections. Plus they've got an array of drinks. And not only that, you can also play billiard games, watch sports program, or just party with other tourists there. Every Tuesday, they have trivia nights that you can participate as well.
La Carinderia
General Luna, Siargao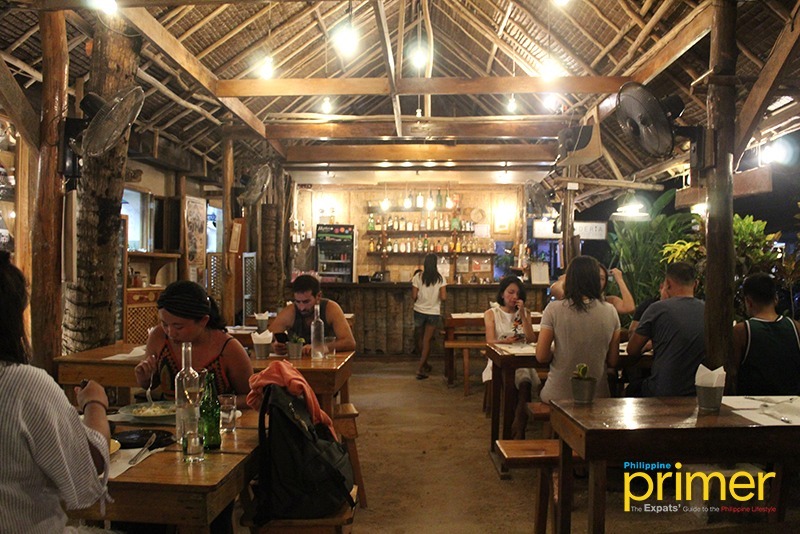 La Carinderia isn't your typical food destination. Why? Because they serve Italian with a twist Filipino flavor (or the other way around) . Stories have it – I was told that the Italian owner's love for Filipino food was the reason behind this concept. Italian and Filipino food in fusion sounds interesting, right? You should try their tuna sisig with a touch of Italian flavor.
The restaurant is also the go-to place of those tourists who want to drink the night away.
Shaka
General Luna, Siargao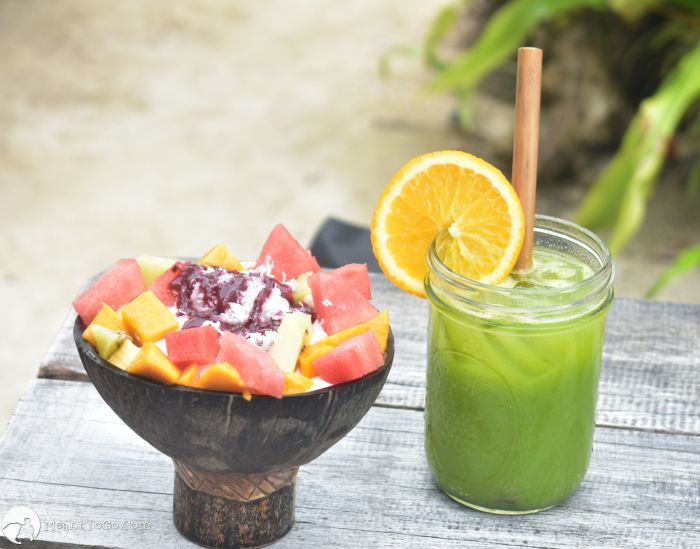 If you want healthier alternatives, you might want to consider dining at Shaka – a rather simple open-space dining destination by the sea, overlooking the wide sea space of Cloud 9. The restaurant serves orders in a pretty unique way as they use coconut shell and other native materials in serving food. They are popular for their fruit shakes and other items for refreshment.
Pacifico
San Isidro, Siargao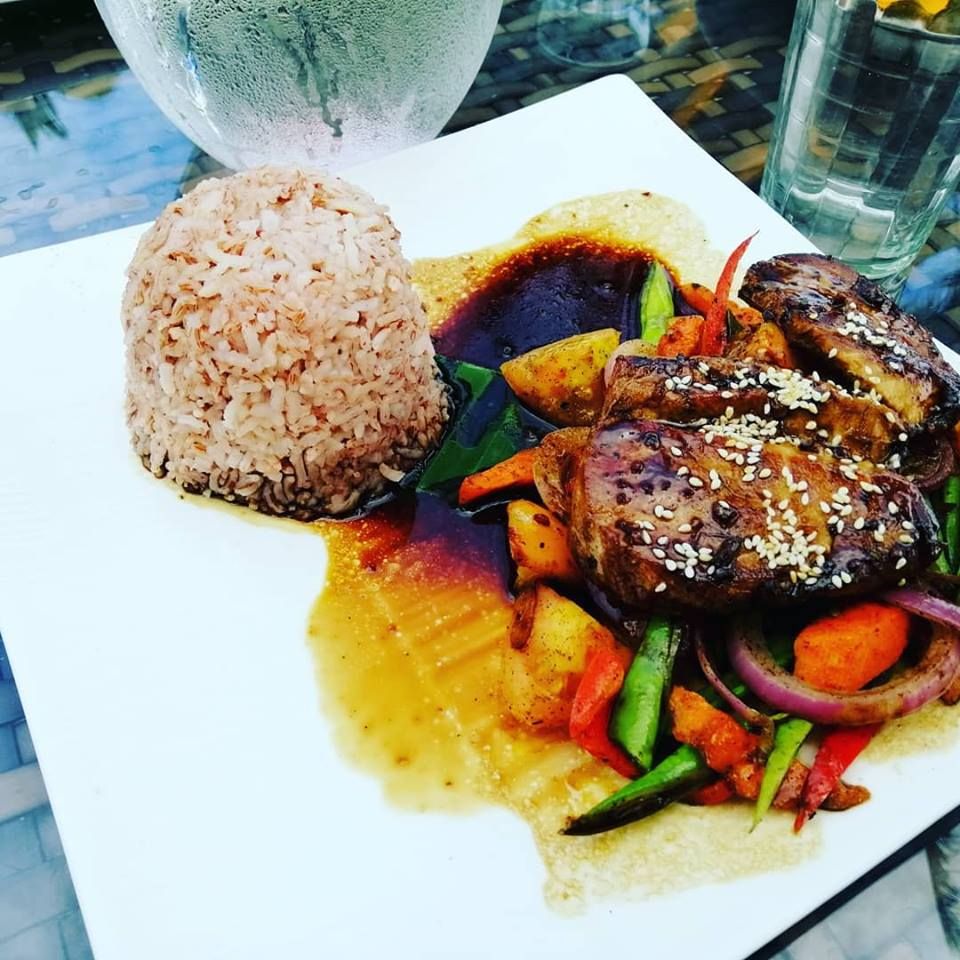 This is another place to try most especially if you venture north to visit Taktak Falls. They serve a wide variety of meals, which include both Western and Filipino dishes. And, I should mention the the resort is a surfing spot as well. Plus, you get to enjoy the beauty of the surrounding landscape for free. They are actually a preferred place for surfers who want to avoid the more-crowded General Luna.
Disclaimer: Only my friends were able to eat at Shaka an Pacifico (though I was with them at these places), so I cannot really provide you my personal opinion about the taste of their food. But they've got rave reviews, so I guess they are worthy of your try.
HOW TO GET TO SIARGAO
By air
Leading airlines have direct flights to Siargao from Cebu (Cebu Pacific; Philippine Airlines) , Clark (Philippine Airlines) , Davao (Philippine Airlines), and Manila (Cebu Pacific; Skyjet) . Please visit their official websites for flight schedules.
By water transpo
Surigao City is the jump-off point if you choose to go to Siargao via water transport. From the city proper, just take a tricycle ride going to the port. From there, you can choose to ride either a Roro (ferry ride) or an out-trigger boat. Take note that not all boat rides arrive at Dapa Port (there is a separate port for out-trigger, smaller boats), so make sure you double check it.
MODES OF TRANSPORTATION IN SIARGAO
The most common transportation modes in Siargao are van, tricycle, and motorbikes. I never saw a taxi or a bus for public use during my entire stay in Siargao.
Whether you arrive at Siargao Airport or at Dapa Port, you can take a ride going to your place in Siargao by van, motorbike, or a tricycle. If you come alone, you might choose to ride a tricycle or a habal-habal to save some bucks. However, if you come in group, riding a van could be your cheapest option, depending on where you stay.
When getting around, I would suggest that you rent a scooter, motorbike most especially if your itinerary includes lots of moving. This is more convenient and cheaper compared to the usual commute.
SAMPLE 6-DAY ITINERARY
Day 1:
8:00 AM
Arrive at Siargao Airport
9:30 AM
Arrive at your chosen accommodation; settle down
12 NOON
Lunch in Dapa; Buy food for the entire duration of your stay
(minus the scheduled dine out)
3:00 PM
Back to accommodation; take rest
7:00 PM
Dinner
10:00PM
Lights out
Day 2:
| | |
| --- | --- |
| 6:00 AM | Breakfast; Prepare for island hopping |
| 8:00 AM | Start Island Hopping |
| 9:00 AM | Naked Island |
| 11:00 AM | Daku Island |
| 3:00 PM | Guyam Island |
| 6:00 PM | Back to accommodation |
Day 3:
| | |
| --- | --- |
| 6:00 AM | Quick breakfast |
| 7:30 AM | Arrive at the tourism office for Sugba Lagoon |
| 8:30 AM | Arrive at Sugba Lagoon |
| 11:00 AM | Back at the tourism office |
| 11:30 AM | Quick Lunch |
| 12:30 PM | Arrive at Magpupungko |
| 3:00 PM | Arrive at Tayangban Cave |
| 4:30 PM | Arrive at Maasin River |
| 7:00 PM | Dine Out |
| 10:00 PM | Back to accommodation; Lights out |
Day 4:
| | |
| --- | --- |
| 6:00 AM | Breakfast |
| 8:00 AM | Arrive at Cloud 9 for surfing |
| 11:00 AM | Lunch |
| 12:00 NOON | Back to accommodation; Res |
| 3:00 PM | Back to General Luna for afternoon stroll; Sunset View, giant waves view at Boardwalk, Cloud 9 |
| 7:00 PM | Dinner, Night Stroll in Genera Luna |
| 11:00 PM | Back to accommodation; Lights out |
Day 5:
| | |
| --- | --- |
| 7:00 AM | Breakfast |
| 8:00 AM | Take a snapshot of Coconut Road |
| 9:00 AM | Venture north to Pacifico Seaside Resto |
| 12:00 NOON | Lunch at Pacifico; Enjoy the Pacific waves |
| 2:00 PM | Taktak Falls |
| 7:00 PM | Drop by Maasin Top View for great night sky view |
| 8:00 PM | Dinner in General Luna |
| 11:00 PM | Back to accommodation; lights out |
Day 6:
| | |
| --- | --- |
| 6:00 AM | Breakfast; Prepare for departure |
| 8:00 AM | Depart for airport |
| 9:00 AM | Depart Siargao |
SAMPLE BUDGET
(For 5-member group; willing to cook their own food, has members who know how to drive. Further, this sample budget excludes airfare.)
Transportation (Good 5 persons) = Php 1000 per day x 5 days (Bingo rental) + Php 1000 (fuel for 5 days) = Php 1200 each
Food (breakfast, dinner prepared personally) = Php 200 per day x 5 days = Php 1000 each
Food (Dine-out) = Php 300 per meal x 3 = Php 900
Island hopping joiner package (Naked Island, Daku Island, Guyam Island) = Php 800 each
Budget Accommodation = Php 15000 (5 nights; 5 persons) = Php 560 (Check out current rates on places to stay in Siargao with kitchen, for groups)
Boat fee (Sugba Lagoon) = Php 1500 (5 persons) = Php 300
Surfing fee (1 hour with dedicated instructor) = Php 500
Entrance and Rental Fees: Php 800
TOTAL ESTIMATED BUDGET PER PERSON: Php 6,060
Note: I purposely did not include the 6th day for bingo rental because that's the departure date from Siargao back home i.e. no more touring around; chances are that your accommodation will provide a free airport transfer (like we had)
PRICES REFERENCE
Entrance, Rental, Activity Fees:
Sugba Lagoon = Php 50
Magpupungko = Php 50
Boardwalk @ Cloud 9 = Php 50
Surfing (1 hour with a dedicated instructor) = Php 500
Paddle board rental = Php 200/hr
Kayak rental = Php 200/hr
Caving @ Tayangban Cave = Php 70
Maasin River = Php 25
Naked Island = Free
Guyam Island = Php 30
Daku Island = Free
Taktak Falls = Php 25
Island Hopping package – joiner (Naked Island, Daku Island, and Guyam Island) = Php 800
Transportation:
Motorbike rental (good for 2)= Php 400 per day
Bingo (tricycle) rental (good for 5)= Php 1000 per day
Minimum Fare = Php 10
Food:
Barrel = Php 300 per meal
La Carinderia = Php 300 per meal
Shaka = Php = Php 300 per meal
USEFUL TIPS
The best way to get around in Siargao is by motorbike or, if you are a group of 5, the bingo tricycle. So, if somebody from your group knows how to drive, you might want to consider this transportation option, most especially if your itinerary includes getting into different parts of the island.
If your island hopping does not include meals, I would suggest that you cook your own food and bring them with you into the island. The price of food in Daku Island is pretty expensive (doubled the price in the wet market in Dapa).
There are limited ATMs in the island so I would suggest you bring enough cash; credit card terminals are nowhere to be found in the island as well.
When visiting the Boardwalk at Cloud 9, it is best you go there just before sunset all the way to early evening as there are fewer crowd this time of the day plus, you get to enjoy the beautiful sunset scenery.
A tumbler is a great help. For one, single use plastic is banned in the island; for another, it saves you some amount as you do not need to buy bottled water. All you need to do is refill your container at your accommodation. They usually have free drinking water prepared for guests. (take this seriously to avoid dehydration)
Again, a bigger chunk of your budget will probably go to food; thus, I would recommend that you prepare your own food at your accommodation, particularly for breakfast and dinner. Just buy at Dapa wet market the items to cook.