Note: I have never been to Manila in my entire life. So this post is just a product of my online research and this isn't only for you, my dear readers, but  for me as well. 😀 And so, since I have no personal experience with Manila rooftop bars yet, it is quite understandable if you don't take my word for it. But of course, when I have a chance to travel to the Philippine capital in the near future, I'll see to it that hanging out at one or two of these rooftop bars is part of my itinerary.
Roof top bars, without doubt, have fascinated many tourists visiting Manila in the past recent years. Why not? That feeling of being on top of the world, literally, is one of the nicest moments any body can have. Imagine, for instance, you, having a 360 degree view of the metro that is sparkling, shimmering at night with its city lights, while having drinks, enjoying moments with friends, business associates, or with your special someone – how cool is that?
I searched online about the coolest rooftop bars in Manila, and these are some interesting spots I've stumbled upon:
The Nest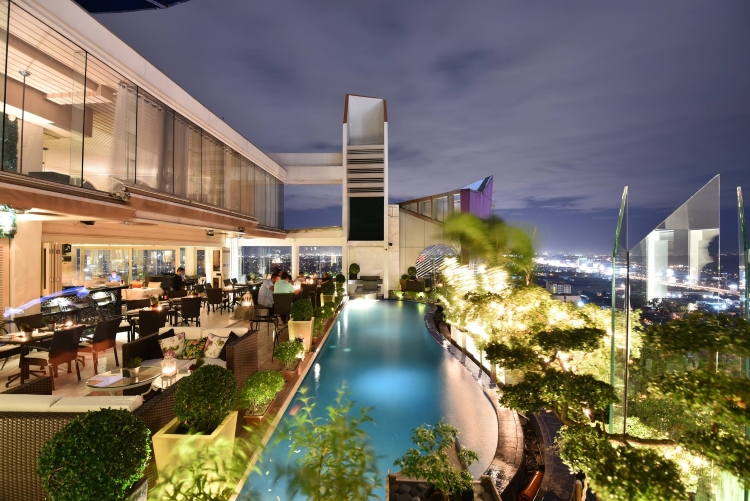 The Nest is situated on the 31st level of Vivere Hotel, which is located at 5102 Bridgeway Avenue, Filinvest City, Alabang, Muntinlupa City, Manila.
The Nests hosts Vivere's breakfast buffet, which means you can have a nice view of the metro and the Manila Bay even in the morning as you take your breakfast delight.
The place becomes even more delightful after sunset as guests enjoy heavier courses of steak and select wines and drinks, among other delectable items (they serve american, Asian fusion and Filipino cuisine), as great music plays in the background. Performers take requests from customers, so you can make the night more 'special' to you as you request your favorite music to be played by the pianist.
Notable Items:
Takes Reservations
Walk-Ins Welcome
Good For Groups
Good For Kids
Waiter Service
Outdoor Seating
Contact Information:
Phone: (02) 771 7777
email: info@viverehotel.com.ph
Website: http://viverehotel.com.ph/
Business Hours: 5:30PM-1:00AM
Straight Up Bar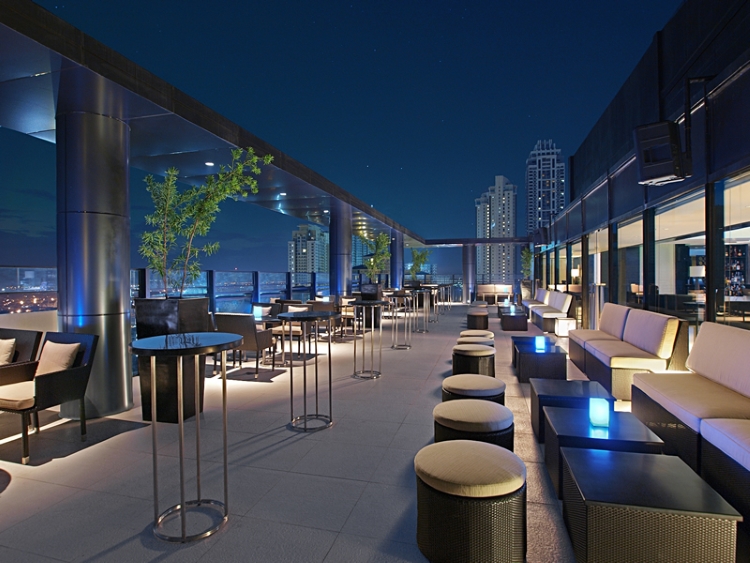 Straight Up provides a vista view of the ever-evolving cityscape of the metro, while guests enjoy cool cocktails, great music, and fashionable interior. It says it offers a "panoramic view that covers East to West, from the verdant park amid fashionable boutiques and restaurants of Bonifacio High Street to vibrant residential communities south of Manila."
Notable items:
Guests can choose between lounging indoors or enjoying the cool even breeze at "al fresco"
Private rooms for exclusive parties
Seafood and "carne" tapas are menu highlights, along with other delectable menu and deserts
Audal entertainment is a mix of 21st century lounge interspersed with guest singers mid-week and dj's on weekends
Takes reservations
Walk-ins are welcome
Good for groups
Waiter service
Outdoor seating
Contact info:
Phone: (02) 945 8888
Email: bgc@sedahotels.com
Website: http://www.sedahotels.com
Facebook: https://www.facebook.com/straightupatseda/
Business Hours: 4:00 PM – 2:00 AM
Vu's Sky Bar and Lounge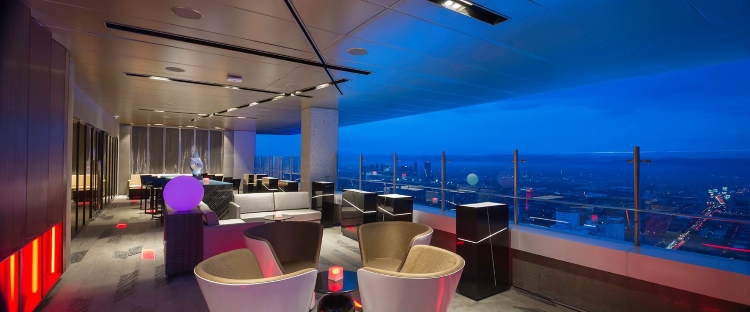 Located on the top 45th floor of Marco Polo Hotel, Ortigas, Manila, Vu's Sky Bar and Lounge offers a nice venue for social gathering, where guests can indulge in mouth-watering samplers of antipasti, signature cocktails, wines, spirits, and champagne while enjoying the awesome vistas of the metro stretching into the horizon. The bar boasts of its "high-end sound system, relaxing vibe and savory Mediterranean tapas served indoors or al fresco style."
Notable items:
Attire: Cocktail Chic
Salsa nights on Saturdays along with a Latin American buffet
Best for hosting important guests, taking a client out
Contact information:
Contact number: (+632) 720 7777
Email: vus.mnl@marcopolohotels.com
Website: http://bit.ly/2udJliI
Address: Marco Polo Ortigas Manila Meralco Avenue and Sapphire Street, Ortigas Center, Pasig 1600, Manila
Business Hours: 5:00 PM – 2:00 AM (Mon-Sat); 5:00 PM – 12:00 Midnight (Sun)
Sky Deck View Bar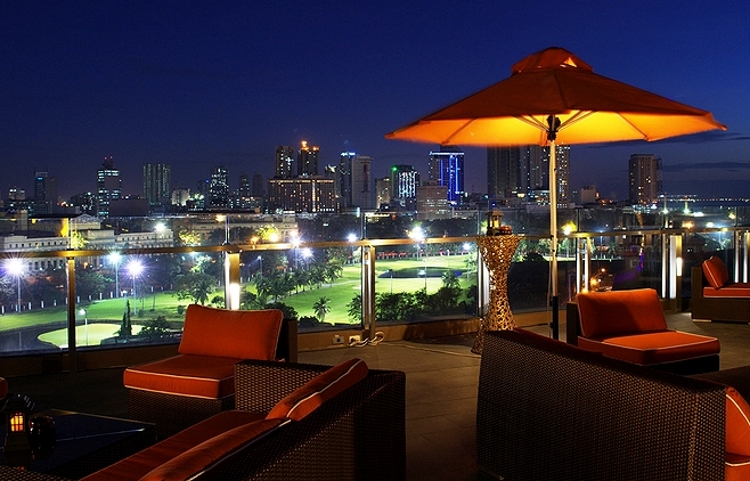 If you are looking for a place that offers a fascinating view of the old Manila, Sky Deck View Bar is the place to go. This place, as a number of reviews say it, provides a panoramic view of some of the metro's old structures such as the Intramuros, church domes, the Post Office, Manila City Hall and other legislative buildings, while guests enjoy delectable Asian cuisines and a great selection of drinks, couple with local entertainment.
Notable items
Reservations are recommended
Average cost for two people is 1.5k pesos (with alcohol)
Outdoor seating
Nice place to view Manila sunset
Happy Hour is from 5:30 pm to 9:00 pm daily
Contact information
Phone number: +63 (02) 318 5000 or 328 3170
email: tbi-inquiry@thebayleaf.com.ph
Website: http://www.intramuros.thebayleaf.com.ph/sky-deck/
Facebook: https://www.facebook.com/thebayleafintramuros/
Address: The Bayleaf, Muralla corner Victoria Streets Intramuros, Manila, 1002 Philippines
Business Hours:5:00 pm to 12 MN; Buffet Dinner: 5:30 pm to 10 pm / Friday to Saturday (weather permitting)
Penthouse 8747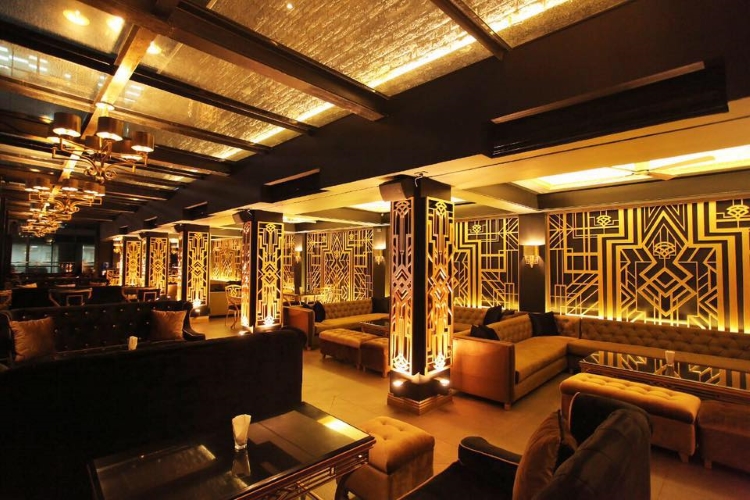 Penthouse 8747 is conveniently located at the heart of Makati, the central business district of the greater Manila. This rooftop bar, with interior that is inspired by the Great Gatsby era (will take you back to 1930's), has been attracting both local and foreign guests since it started in 2016. It's a classic and chic lounge overlooking the Ayala Triangle Gardens, with an awesome panoramic view of the Makati skyline.
Notable items:
Full Bar Available
Vista view of the city skyline
Rooftop
Serves cocktails
Outdoor Seating
Private dining area available
Accepts event packages
Gastropub
Contact information:
Phone: +63 (02) 246-9069
Facebook page:
Email: marketing@paseopenthouse.com
Website: http://www.thepenthouse8747
Business hours: 4:00 PM – 1:00 AM (Mon-Thurs); 4:00 PM – 2:00 AM (Fri-Sat)
Address: Lepanto Building, 8747 Paseo de Roxas, Salcedo Village, Makati City
—
P.S
This is a work-in-progress list, so if you have something to add, feel free to give your suggestion about your personal experience with rooftop bars in Manila – send me an email or comment below. 🙂