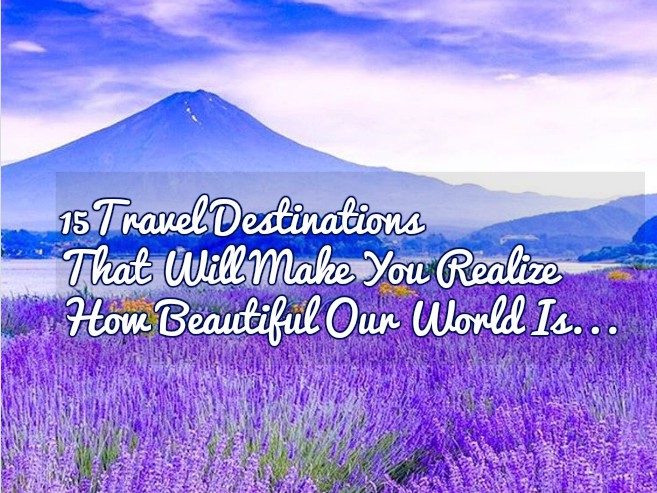 The world is indeed gifted with so many beautiful places. From beaches to rain forests; from cityscapes to farmlands – you name it and the world has it. Not convinced? The following Instagram photos serve as proof. Some of the world's most beautiful places that will make you want to pack your bag and go. Well, who knows? You might get a chance to visit them all (or some of them) in the near future.
So here we go…
The St. Regis Bora Bora Resort, French Polynesia
Located in Bora Bora 98730, French Polynesia, this private-island resort covers about 44 acres of breathtaking landscape. It has been dubbed as a Polynesian dreamland, where, apart from pristine beaches and crystal clear water, guests can enjoy spectacular over-the-water villas, pool beach villa, oceanfront retreat villa or their Royal Estate.
El Nido, Palawan
This tourist attraction located in the Province of Palawan in the central-western part of the Philippines is attracting hundreds of thousands of tourists – both local and foreign – each year (and growing). It is best known for its white sand beaches, crystal clear turquoise water, and unique landscapes – a truly relaxing place.
The Lavenders of Mt. Fuji, Yagizaki Park and Oishi Park 
Spectacular blooms of lavender flowers is best experienced from late June to early July. The perfect locations are the Yagizaki Park and Oshi Park by the Lake of Kawaguchi. Tourists will surely have a wonderful experience visiting the place, having to experience fragrant flowers, fresh and clean air, and a stunning view of Mt. Fuji looming in the backdrop.
A valley in Switzerland
The user did not specify where in Switzerland this spectacular valley is, but I decided to include this because it is simply breathtaking and that you might be interested to visit this place one day.
Catedral de Granada, Granada, Spain
A religious structure considered to be having one of the most beautiful architectural designs – breathtaking architecture not just in the outside but even more so in the inside of the church.
Sagrat Cor church (The Temple Expiatori del Sagrat Cor), Barcelona, Catalonia, Spain
A Roman Catholic church and minor basilica nestled on the summit of Mount Tibidabo in Barcelona, Spain. Yes, you read it right – the whole structure is composed of two churches (take a closer look at the photo).  According to travel guide website Lonely Planet, it is "two churches, one on top of the other; the top one is surmounted by a giant statue of Christ and has a lift to take you to the roof for the panoramic (and often wind-chilled) views."
The Jacaranda Trees, Sydney, Australia
If you are visiting Sydney in the month of November, chances are that you are going to experience this magnificent beauty. The stretch of flowering trees starts from Paddington to Lavender Bay. It has been said that "no other blossoming has quite so transformative an effect on the city" as it seems to change the light – it becomes bluer.
"This most beautiful flowering tree is a native of Brazil, and no garden of any pretensions can be said to be complete without a plant of it." ~ Sydney Morning Herald, 5 December 1868
Phi Phi Islands, Krabi Province, Thailand
This tropical paradise is one of the most popular vacation spots in Thailand; in fact, it is dubbed as country's "island superstar". This group of islands has become even more popular when it was used as the primary location for the 2000 British-American movie The Beach, starring Leonardo DiCaprio
Death Valley National Park, California and Nevada, US
Declared as a national park in 1994, Death Valley has been attracting many tourists for years. It is a favorite spot of stargazers as well as of those who are into night sky photography. But the place offers more than that. If you want a more daring adventure, then you might want to consider visiting this place – at least once in your life time.
Taj Mahal, Uttar Pradesh, Agra District
Is there anybody out there who isn't familiar with the Taj Mahal? Perhaps, there is none. Most probably, you've seen this wonder on print or on TV some time in the past. This vast mausoleum of white marble was built between 1631 and 1648; it is the jewel of Muslim Art in India, and has been one of the universally admired human creations in the world.
A diving spot, Greece
Where in Greece this diving/snorkeling spot specifically located? Well, I don't know… the user did not mention the name of the place, but still, this photo caught my attention. I mean, look at the underwater terrain – quite unique. So, guys, if you are into diving, and visiting Greece is part of your bucket list, you might want to be more adventurous, and try this one.
Northern Lights, Yellowknife, Northwest Territories
The aurora borealis, or northern lights can be seen in several places in Canada, but visitors have a 90% chance of seeing this spectacular phenomenon in less populated provinces during the winter months – like in Yellowknife, which is the eastern neighbor of Canada's Yukon – another great place to witness such a nature's beauty.
Initiatic Wells aka Inverted Towers, Sinatra, Portugal
Initiatic Wells aka Inverted Towers are two wells (connected to one another by tunnels) found at Quinta da Regaleira, an estate located in Sinatra, Portugal. The place has been classified as a World Heritage Site by UNESCO, and is considered one of the principal tourist destinations of Sinatra. These wells never served as water sources. Instead, they were used for ceremonial purposes that included Tarot initiation rites. Other features include various caves, monuments, and a 27-meter spiral staircase with several small landings.
Baldi Hot Springs, La Fortuna de San Carlos, Costa Rica
Baldi Hot Springs Resort is a family-oriented tourist attraction at the base of the Arenal Volcano, surrounded by exuberant nature. It is said to be the largest mountain resort in the world with 25 pools of thermal water, believe to have healing properties.
Fiorodo di Furore, Campania region, Salerno province, Italy
A sort of natural port where guests arrive by the sea side; the place is surmounted by a natural rock arch that perfectly completes the majestic beauty of this tourist destination. Thanks to its unique location, the place indeed a true natural fortress.
There you go…beautiful places on earth that inspire you to go… to travel more!
Of course, there are lots of other must-see destinations that you want included in the list, guys, so feel free to add them in the comment section below. 😀