I was having a second thought when my tour guide during my Mt. Capistrano trek suggested that I should make a side trip to Nasuli Cold Spring Resort. For one thing, it was not part of my original Bukidnon weekend itinerary. So, I was a little anxious about whether or not I could still fill another item in my schedules. Also, I was a bit worried thinking that my fast-depleting budget wasn't enough to cover it. But with some convincing – and the realization that the trek was exhausting – I gave in. A couple of hours later, I just found myself in front of the resort paying for the entrance fee.
The Nasuli Cold Spring Resort
Taking a plunge into the cold water of Nasuli Spring Resort was rejuvenating (thanks to my tour guide for suggesting it). It was a perfect way to end my weekend getaway in Bukidnon. The resort was not far from the famous trekking site; just a mere 30-minute habal-habal ride.
I didn't bother to ask questions about the resort when I arrived there, except that I was able to confirm that it is indeed a natural spring. The water comes from underneath the ground and not from any pipe that supplies for household consumption. That explains why the water is way colder than the typical pool you can find around.
So, what else can you expect from this resort?
Apart from the features stated above, the spring is pretty wide (like 2 basketball courts combined) and surrounded by towering trees. Literally, you will be swimming under the shades of dense leaves. The deepest part, which is also the diving area, measures about 25 to 30 feet.
There is also a floating platform made where you can take a rest and enjoy tiny creatures (and I mean, fish) touching you feet below.
The only thing that you might not like (as I did) is the slimy bottom in some part of the spring, which blurs the water when touched by your feet. I think it's accumulated mud.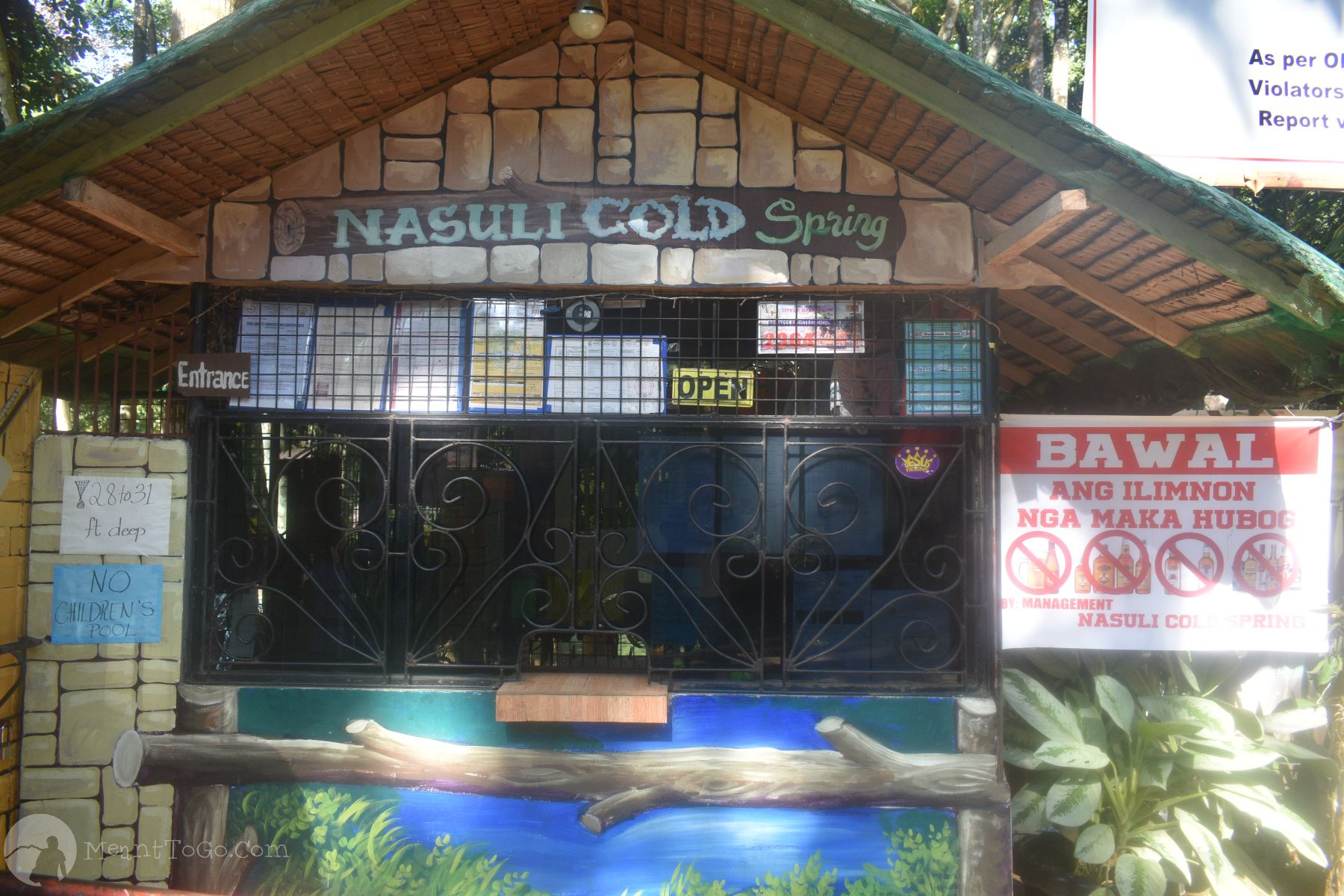 There are also open cottages available in the area and a store where you can buy stuff, including souvenirs.
Nearby food houses are also available. But I would encourage that you bring your own food.
Not-so-fancy restroom and changing rooms are also available (manage your expectations when it comes to this)
The place is ideal for family or friends gatherings, and for people who just want to relax to beat the summer heat.
How to get there (from Davao City)
Ride a bus at Ecoland Terminal bound for Cagayan de Oro
Alight in Brgy. Bangcud, Malaybalay City, Bukidnon (tell the bus conductor that you are going to Nasuli; drop-off landmark is Iglesia ni Cristo church.)
From there, just ask for direction from habal-habal drivers if you want to take a walk going to the resort (it is about about 1 km from the highway).
Fees/ Rates
Entrance fee: PHP 40
Cottage : PHP 300-400
Table : PHP 200
Life Jacket : PHP 50
Inflatable Floaters (salbabida) : PHP 50php
Note: Rates may have changed from the time of this posting. So, please contact them using the information below.
Contact
Business Hours : 5am – 6pm (Daily)
Contact : 09061656428
Facebook page : https://www.facebook.com/Nasuli-Spring-Resort-136716879733005/
Email : nasulispringresort@yahoo.com
A few reminders
No lifeguard on duty (Swim at your own risk)
No area that is designed for children (so please always keep an eye on your children)
Alcoholic beverages and cigarettes are prohibited inside the resort
Eating by the spring is not allowed (there are cottages intended for that)