After more than two years of "outdoors hiatus," I am glad that I have finally made a comeback (apologies for the "comeback;" that's just for the lack of a more appropriate word). But yes, right! Now that strict restrictions and lockdowns are over, you will see me hitting the trail and getting sun-kissed again more often. That is, of course, if the pandemic situation further improves.
Last weekend, I was on a fun island-hopping tour, circumnavigating  Talicud Island in Samal, Davao del Norte, passing by some famous resorts, including Pearl Farm and Malipano Island. It was made possible by our generous friends at Way Philippines. That captivating end-of-summer activity was part of their Samal Island Hopping packages: a tour that gives guests a taste of what island hopping should be – fun, an opportunity to enjoy nature, a taste of delectable cuisine, and more!
So, here's how we had our series of island hopping activities:
Call time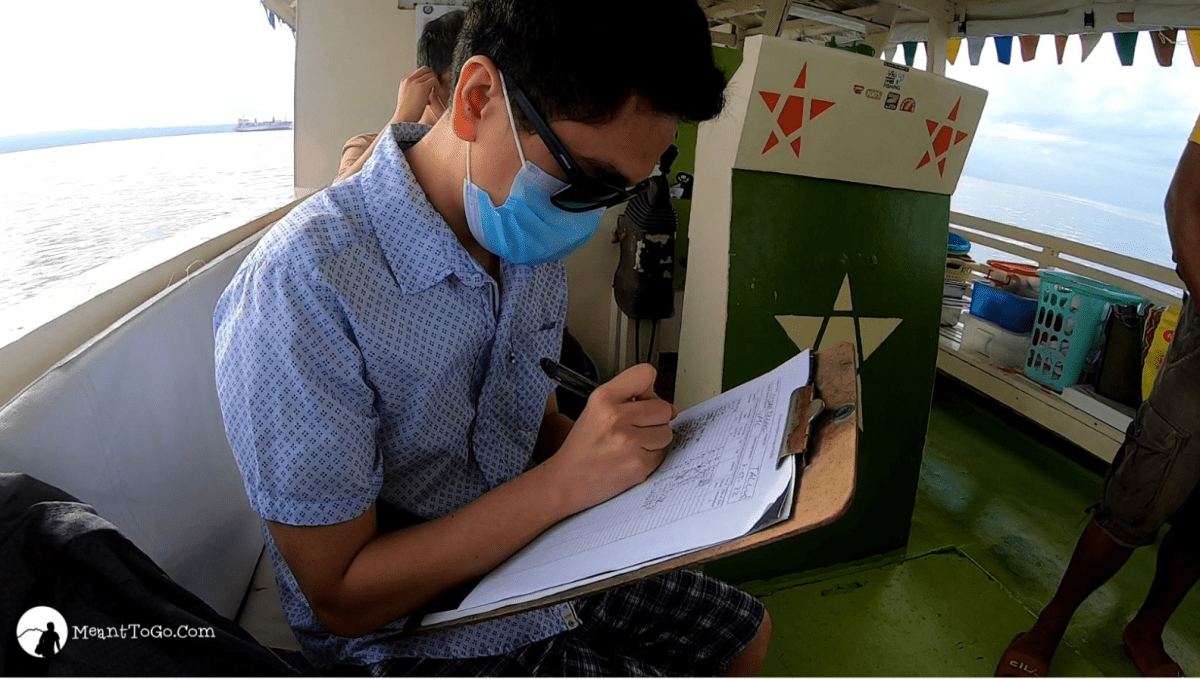 The call time was 7 AM, but I got there way before that to ensure everything was good and that I could find our ferry way ahead of schedule. Ours was third in a row, so we, the guests, had to go on board through other boats – expected when watercrafts crowd the port already. While waiting for the other guests, we signed a manifesto for the headcount. We had breakfast (included in the package) not long after that.
And we were off to go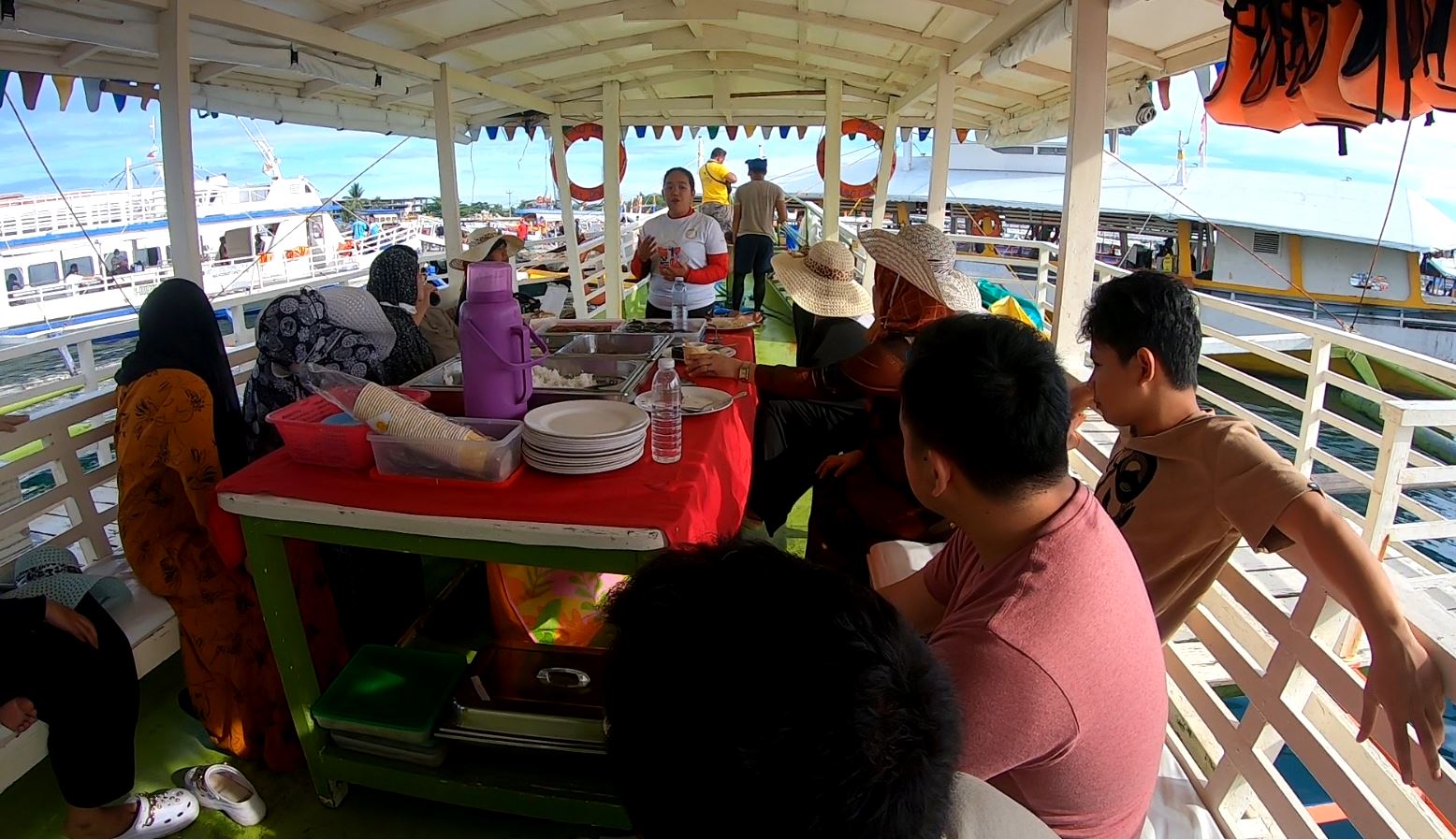 At around 8 AM, we were off to go! The travel from Sta. Ana Wharf to our first destination lasted about an hour (give or take ) so while on our way, our tour guide gave the customary orientation detailing our activities and some reminders on the dos and don'ts. After that, we had ample time for ourselves. It gave us more than enough time to do personal stuff, including taking photos, and prepare for the day's activity.
First stop: The Coral Garden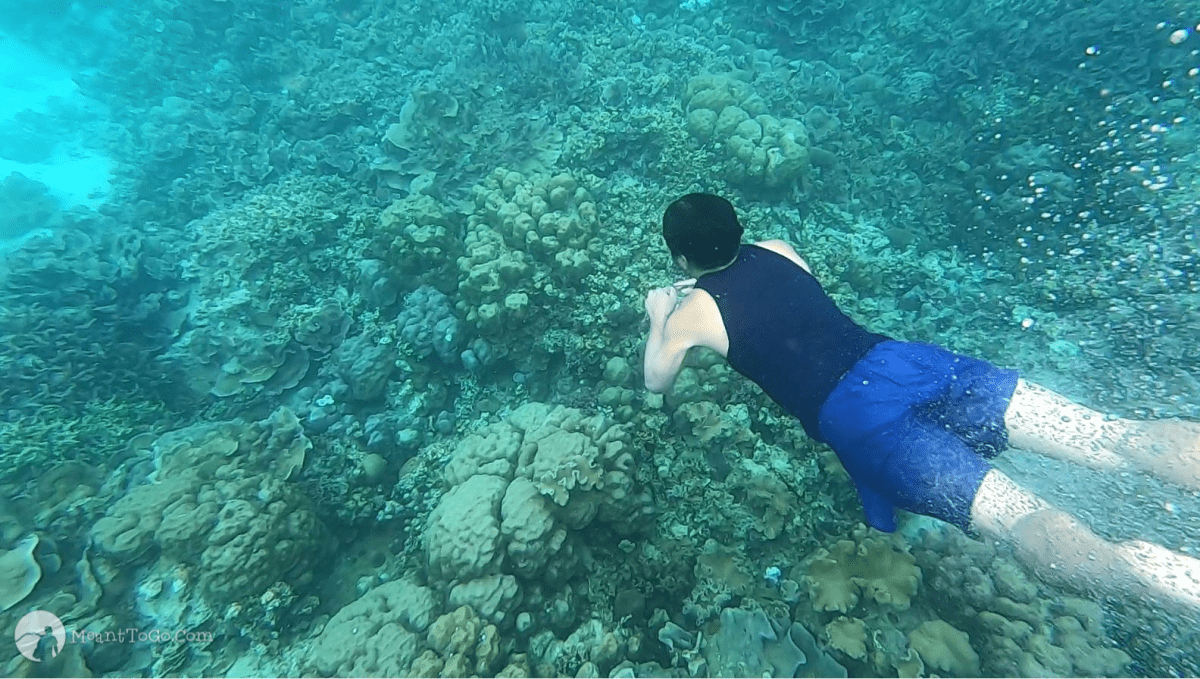 The Coral Garden – an area in the waters of Talicud Island that expands several hundred hectares – was our first destination. Endowed with such beauty, I enjoyed the place so much that I realized the 30 minutes allotted to us just passed by so quickly. Crystal clear waters and different coral reefs – and plenty of living organisms that dwell along with them – were irresistible. Yes, a great experience despite a not-so-vibrant color – the weather was still a bit gloomy from the rain that had just stopped.
Second stop: Dayang Beach Resort & Babu Santa
Dayang Beach Resort is a private beach that tour operators also include in their stops for island hopping in Samal. The place offers a stretch of white sandy beachline where tourists can enjoy swimming and other fun activities under the sun. It also has rental cottages for those staying overnight.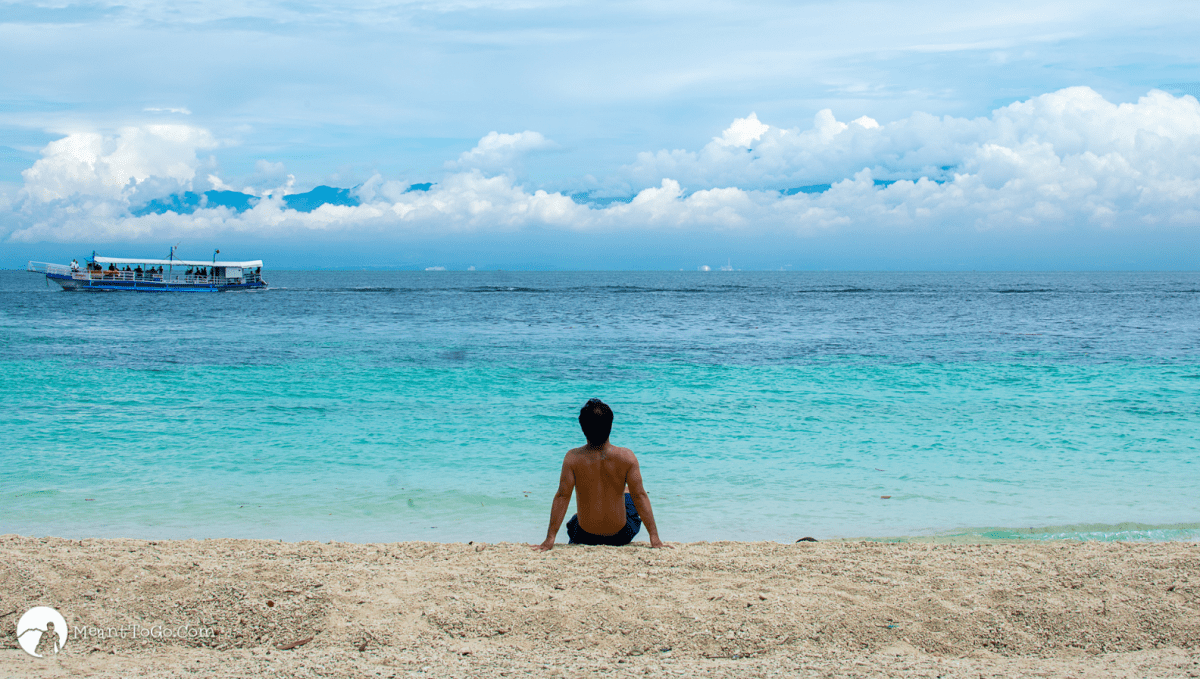 Our boat docked at Dayang Beach Resort with ease because of its shallow beachline waters. Our guide gave us 45 minutes to enjoy the beach. And just like at the Coral Garden, I enjoyed it so much as, apart from swimming, I had the opportunity to tour around the area, including Babu Santa – the adjacent beach resort. I had enough time to take some landscape photos – and drink some fresh coconut juice too!
Third stop: Sabang Cliff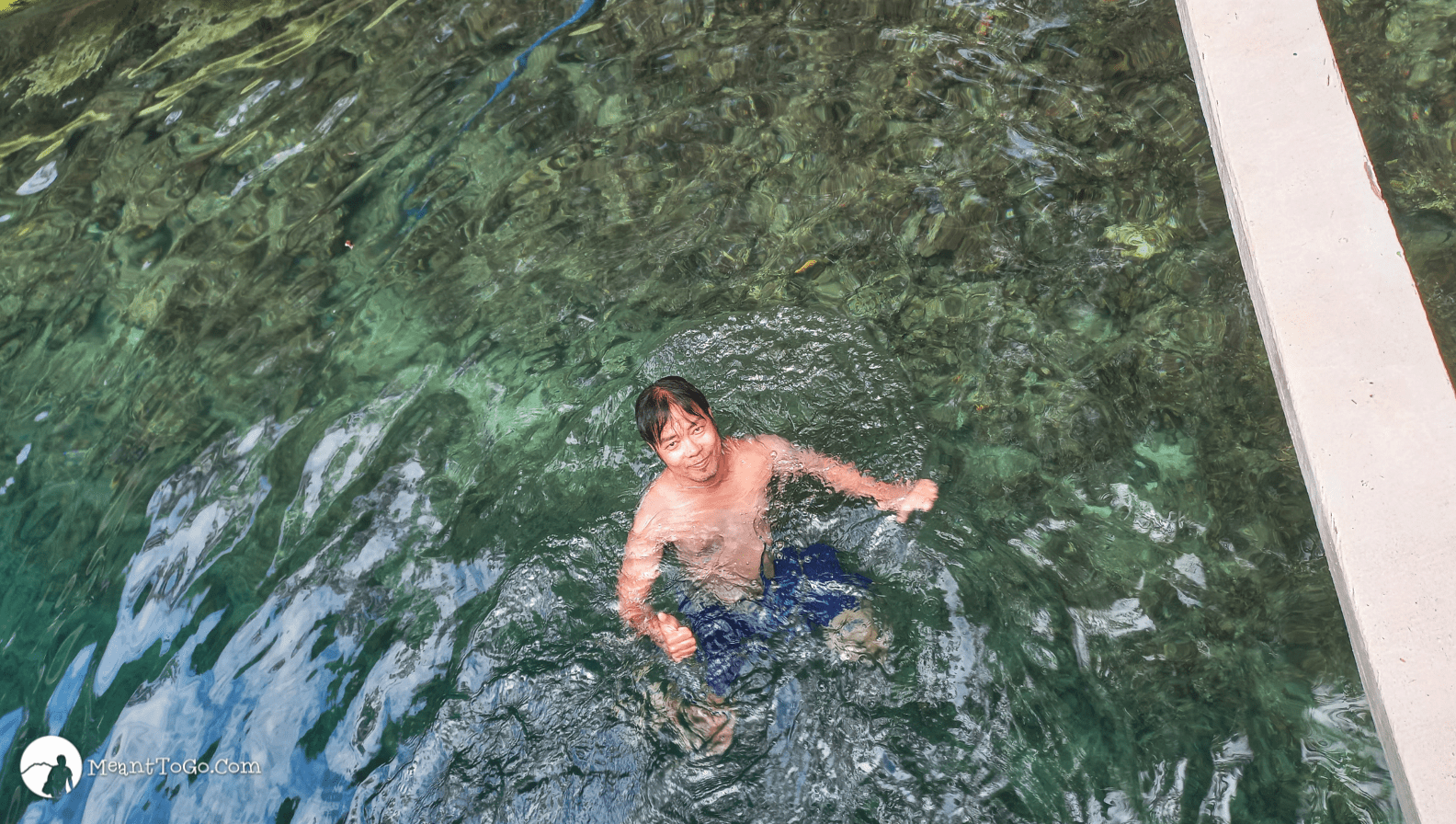 Unlike Dayang Beach Resort and Babu Santa, where you can enjoy getting sun-kissed on their wide beachline, at the Sabang Cliff, you can see natural sea walls that go vertically up, forming a deep ravine covered by lush greenery. Carvings from the splashes of waves, line patterns, and layers of limestones are highly noticeable on these walls, providing a foot trail that allows people to go up to a platform for cliff jumping and diving.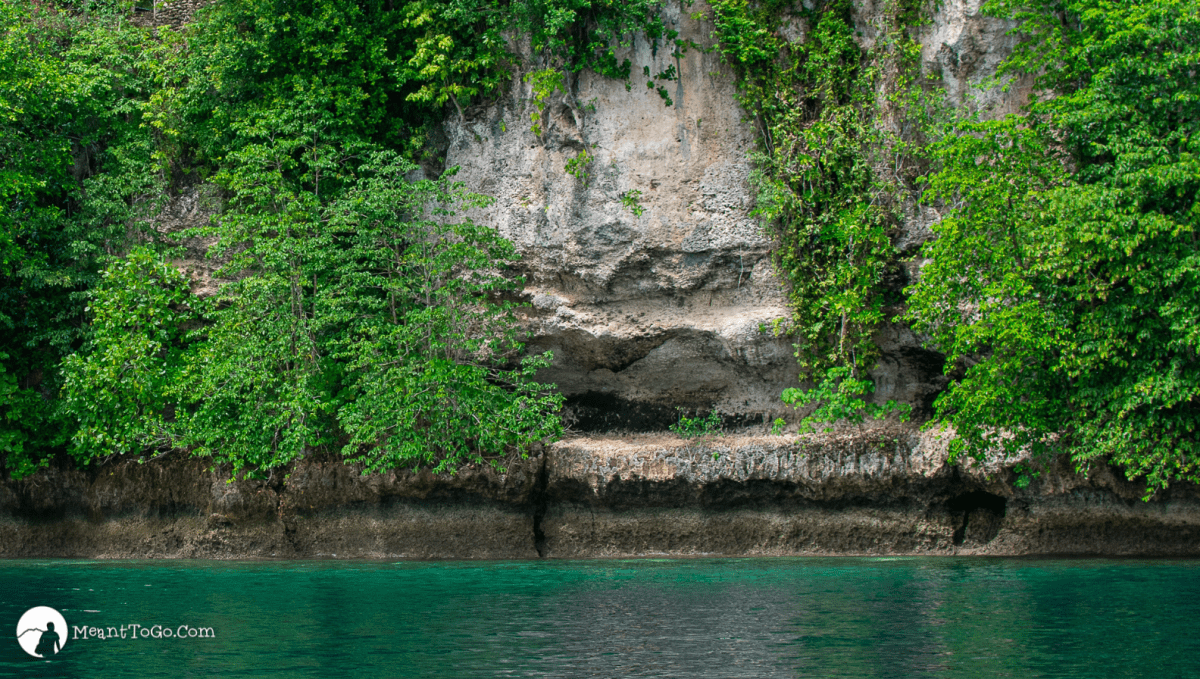 View this post on Instagram
I did not go for a jump (nothing to prove; I did a 40-foot jump during my Kawasan Canyoneering already). But I enjoyed swimming in the crystal blue-green waters in the area. We lingered a bit longer at Sabang Cliff as this was also the place of our buffet lunch (also included in the package). We had sumptuous lunch – lots of seafood, fruits, desserts, and soup. That's the perk of having a cook onboard!
Fourth (and last stop): Giant clam sanctuary
We were supposed to go to Angel's Cove for our fourth destination, but our tour guide said that we might be more inclined to choose the Giant Clam Sanctuary instead. Guests were unanimous in opting for the latter for some compelling reasons. For one, we had not seen giant clams yet, and two, if we had chosen Angel's Cove, we would do the same activity as we did at the Coral Garden – snorkeling and swimming. We had to choose one given the time constraint.
Visiting the Giant Clam Sanctuary was not part of the tour package, so we had to pay 200 pesos for the entrance fee, a snorkel mask, and a guide. Was it worth it? Definitely! It was my first time to see meter-sized clams – not just one but a lot of them! You can see six varieties of giant clams in the sanctuary. My only regret was that not being able to capture underwater photos/footage at the sanctuary as my action cam malfunctioned suddenly. But other than that, it was a great experience!
We stayed a bit more at the Giant Clam Sanctuary that we no longer had enough time to visit the Wishing Island – our supposed last stop before heading back to Sta. Ana Port.
Time constraints opted us to end the tour after enjoying the Giant Clam Sanctuary. Gracefully exhausted by the energy-draining activities – yes, it was all worth it. 🙂
We were back at the port before sunset, just in time for us to see big waves started splashing onto the port's sea walls