For so long, I had wanted to visit Maragusan because I heard a lot of good reviews about it. However, every time I tried to add it to my schedules, it got postponed because of my "corporate" obligations. But not this time around. I made sure that I could squeeze it into my calendar. And I did, thankfully!
My journey to Maragusan wasn't a walk in the park, mainly because of the road getting there. It took us five hours of a van ride. And, during the last hour of our trip reaching there, we had to pass through a narrow roadway by the cliff, skirting the unfriendly mountainside that dropped some remaining stone debris from the last night's landslides. The driver had to be very careful as we took our turn to use the one-way road, passing several construction works. But after experiencing that part, all else were heavenly. I could not help but share in this post how beautiful it was seeing the mountain ranges and the green fields around us.
Maragusan reminds me of the breathtaking landscape of Bukidnon. They are quite similar in many ways, including the terrain. However, the former, in my opinion, edges out the latter when it comes to temperature and forest density. Maragusan is way colder and has a denser forest blanketing the mountains. I could still remember, somebody in the back seat who said "Wow, New Zealand feels!" as we savored the beauty of the vibrant fields we passed by, which were dotted with packs of cattle, feasting the greens.
Indeed, Maragusan is such a beauty to behold.
WATCH: The trail going to Marangig Falls

---
Attractions To Visit In Maragusan (A 2-Day Visit)
---
Calamba Farm
A lot of tourists flock to Calamba Farm to see the breathtaking seas of clouds in the area. But the place also caters to campers who want to stay overnight to enjoy the fresh air and the cold weather. Food vendors are also available in the area.
Tip: If possible, be there as early as 4:30 AM – an hour ahead of the surge of visitors. Seas of clouds are more defined at around 5 AM to 6 AM and they 'melt' into mere fogs at around 7 AM – just in time when the area becomes too crowded.
First gate entrance fee (Brgy Road): Php 5
Second gate entrance fee (Calamba Farm): Php 20
Tricycle Fare (from Poblacion): Php 80 (one way)
Tagbibinta Falls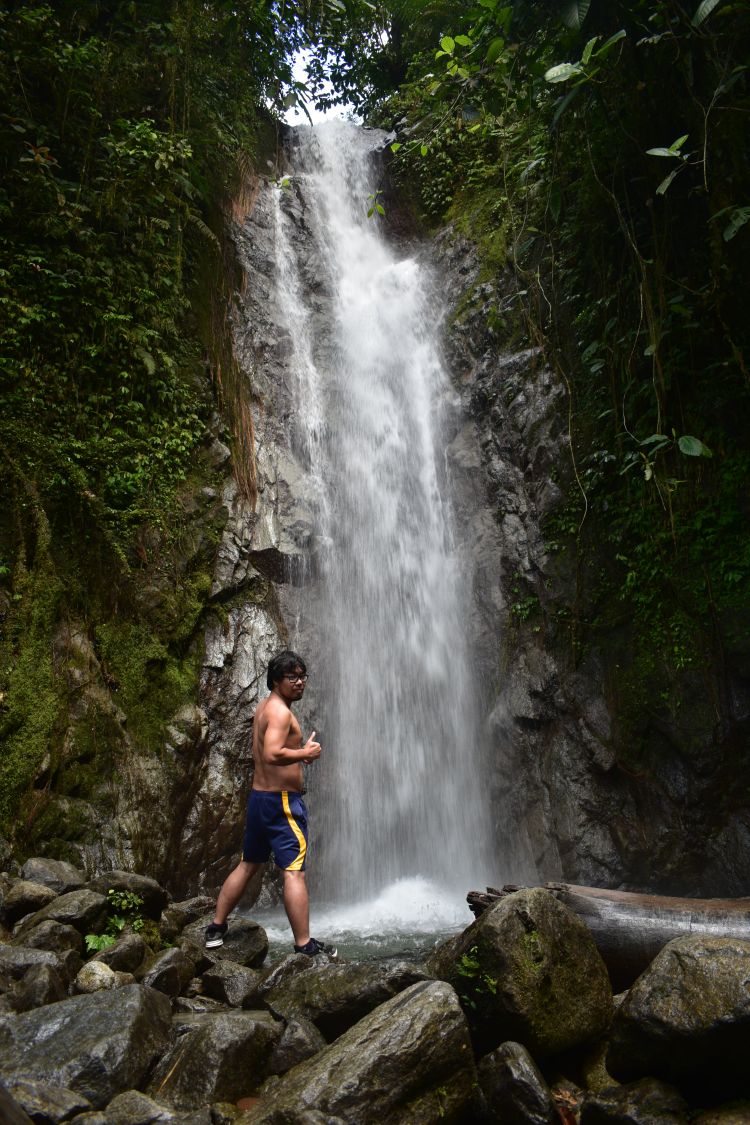 Tagbibinta Falls is said to be a seven-tier waterfall measuring 700 feet in total. I am not sure about that because when we visited the place, I saw only a waterfall that's about 50-feet high. Nevertheless, the place was relaxing with the sound of gushing streams and the cold temperature. The only thing that was a little disappointing to me was the fact that they modified the place so much that my way getting there was no longer a river trek but through the concrete stairs and pathways.
Lots of modifications have been made around the area that somehow defeats the purpose of nature tripping. Cottages and gazebos have been made available for rent for those staying a bit longer. There was also an under-construction swimming pool.
Entrance fee: Php 30 (Adult); 20 (kids)
Tricycle Fare (from Poblacion): Php 40 (one way)
Marangig Falls
I liked the Marangig Falls more than the Tagbibinta Falls. The reason? Because the beauty of the waterfall has been preserved. I saw a little wooden structure (a cottage) in the area, but apart from that, the entire area was all-natural – the breathtaking waterfall and the lush greenery surrounding it were a real treat.
When we visited the place, we were just three of us enjoying the place and I liked it very much because it was as if we had the place exclusive for us.
Reaching the 30-feet Marangig Falls requires a 20-minute river trek, give or take. That was perhaps the reason why we were alone venturing there.
Entrance fee: Free
Tricycle Fare (from Poblacion): Php 40 (one way)
Pyalitan Falls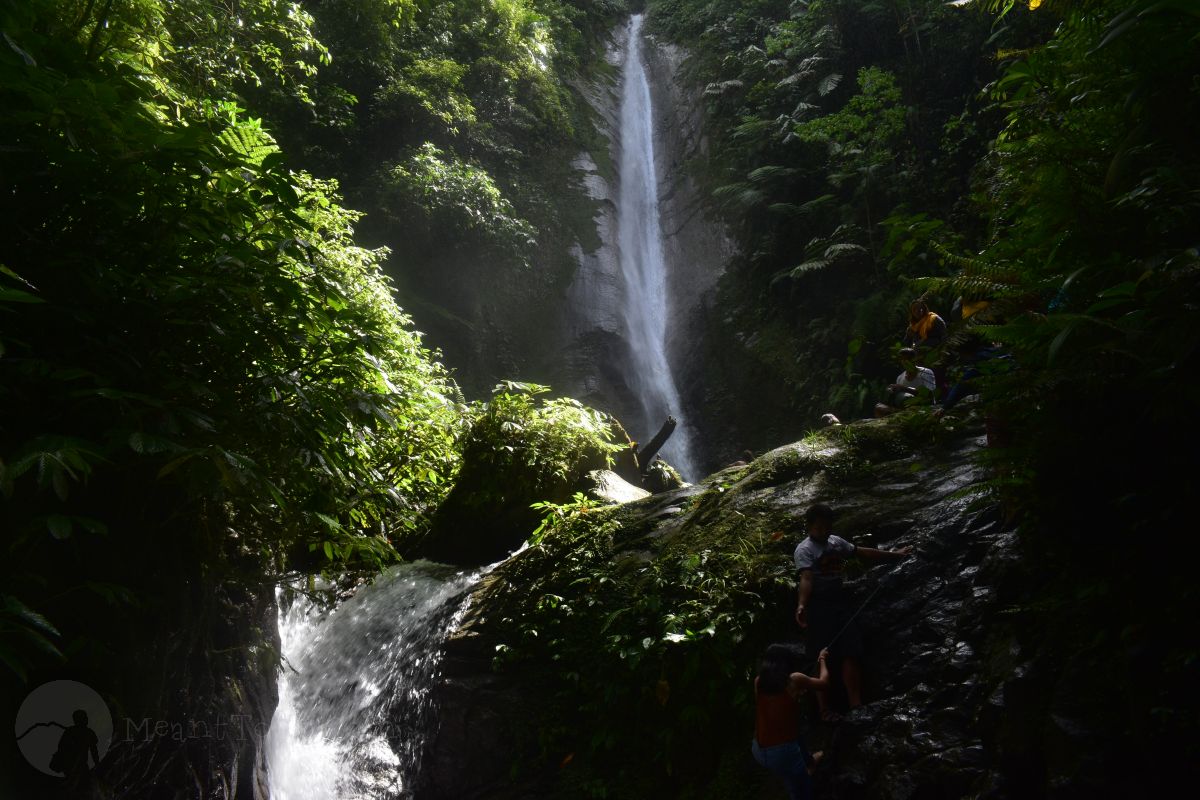 The last waterfall we visited was Pyalitan Falls. This was the farthest among the three from the Poblacion. It was just right that we made it last in our itinerary, precisely because it had the most difficult trail among them. Getting there, we had to endure more than an hour trek, passing valleys, skirting the mountain, and through tiny passages between boulders. We also had to do some rappelling.
Pyalitan Falls was the biggest of them all. It's a multi-tiered waterfall and the highest part, based on my estimates, was around 200 feet high or a little higher than that.
While this was the most difficult trail among the three, it was also the most beautiful. You will surely enjoy it if you are up for an extreme adventure.
Entrance fee: Free
Tricycle Fare (from Poblacion): Php 40 (one way)
---
Where To Stay
---
Haven's Peak
If you want to have a bird's eye view of the Maragusan Poblacion then visiting Haven's Peak is worth it. This resort is atop the hills facing the town center, which glitters with lights at night. The resort also features swimming pools that your whole family can enjoy.
The place also has a restaurant – an open house that allows you to see Maragusan in its breathtaking vistas. And, if you are lucky, you can also enjoy a sea of clouds early in the morning.
And, I should mention as well that the resort has several accommodations to choose from – from family rooms to bunk beds for backpackers.
One thing that I find strange about the resort though is their entrance fee. If you book a room, you still need to pay an entrance fee.
Entrance Fee: Php 30 (adult); Php 20 (kids)
Swimming pool: Php 80
Bunk accommodation: Php 3,200 (Good for 8 pax); Php 500 per person if less than 8 pax
Note: If you book a room, you no longer required to pay for the use of the swimming pool.
Message them for inquiries here: https://www.facebook.com/thehavenspeak/
---
How To Get There (From Davao City)
---
Option 1: Bus
From the airport, you can wait for a bus ride going north at the gate. If you are lucky, you can catch a bus bound for Maragusan directly; if not, you can ride a bus bound for Tagum.
Then, from Tagum Terminal, ride a bus bound for Maragusan
Option 2: Bus
From the airport, take a jeepney ride to the city proper
Then, take another jeepney ride to Ecoland Terminal
At the Ecoland Terminal, take a bus ride bound for Maragusan; if not available, take a bus bound for Tagum
At Tagum Terminal, take a bus bound for Maragusan
Option 3: Van
From the airport, take a jeepney ride going to the city proper; alight at Gaisano Mall (Bajada)
Head to the van terminal (just beside the mall, left wing)
Take a van ride bound for Maragusan
---
Sample Itinerary & Budget (2-day)
---
Itinerary
Day 1 (Tabibinta Falls, Haven's Peak):
ETD From Davao City: 8 AM
ETA in Maragusan & Late Lunch: 1 PM
Tagbibinta Falls: 2PM
Haven's Peak (Check-in): 3PM
Free time/Swimming Pool: 4PM
Dinner: 6PM
Rest/lights off: 8PM
Day 2 (Calamba Farm, Marangig Falls, Pyalitan Falls):
Early check out: 4 AM
Calamba Farm: 5 AM
Marangig Falls: 9 AM
Lunch at terminal: 11 AM
Pyalitan Falls: 1 PM
ETD to Davao: 3 PM
Budget
Davo-Maragusan (and back) Fare = Php 220 x 2 = Php 440
Tricycle Fare

Maragusan Poblacion to Calamba Farm (and back) = Php 80 x 2 =  Php 160
Maragusan Poblacion to Tagbibinta Falls (and back) = Php 40 x 2 = Php 80
Maragusan Poblacion to Marangig Falls (and back) = Php 40 x 2 = Php 80
Maragusan Poblacion to Pyalitan Falls (and back) = Php 40 x 2 = Php 80

Accommodation (Bunk bed; backpackers') = Php 500 per night
Entrance Fees

Haven's Peak = Php 30 per person
Calamba Farm = Php 5 (Barangay Gate); Php 20 (Calamba Farm)
Tagbibinta Falls = Php 30

Food (Good for 2 days) = Php 100 x 6 = 600
Total Budget: Php 2,025
Note: You could be paying more for the transportation if you are going there solo. Thus, you might want to consider visiting Maragusan with a group.