Canawa Cold Spring was the last stop in my weekend sojourn to the southeastern part of Bohol. And I would say that it was just so appropriate to end my itinerary with the said attraction. Why not? After all the physically exhausting activities that I went through earlier that day, taking a plunge into a super cold spring water was a real treat that anybody would appreciate. In fact, the super tired body of mine was quickly relieved soon after I took my first dive into this spring that is said to be harboring legends and tales.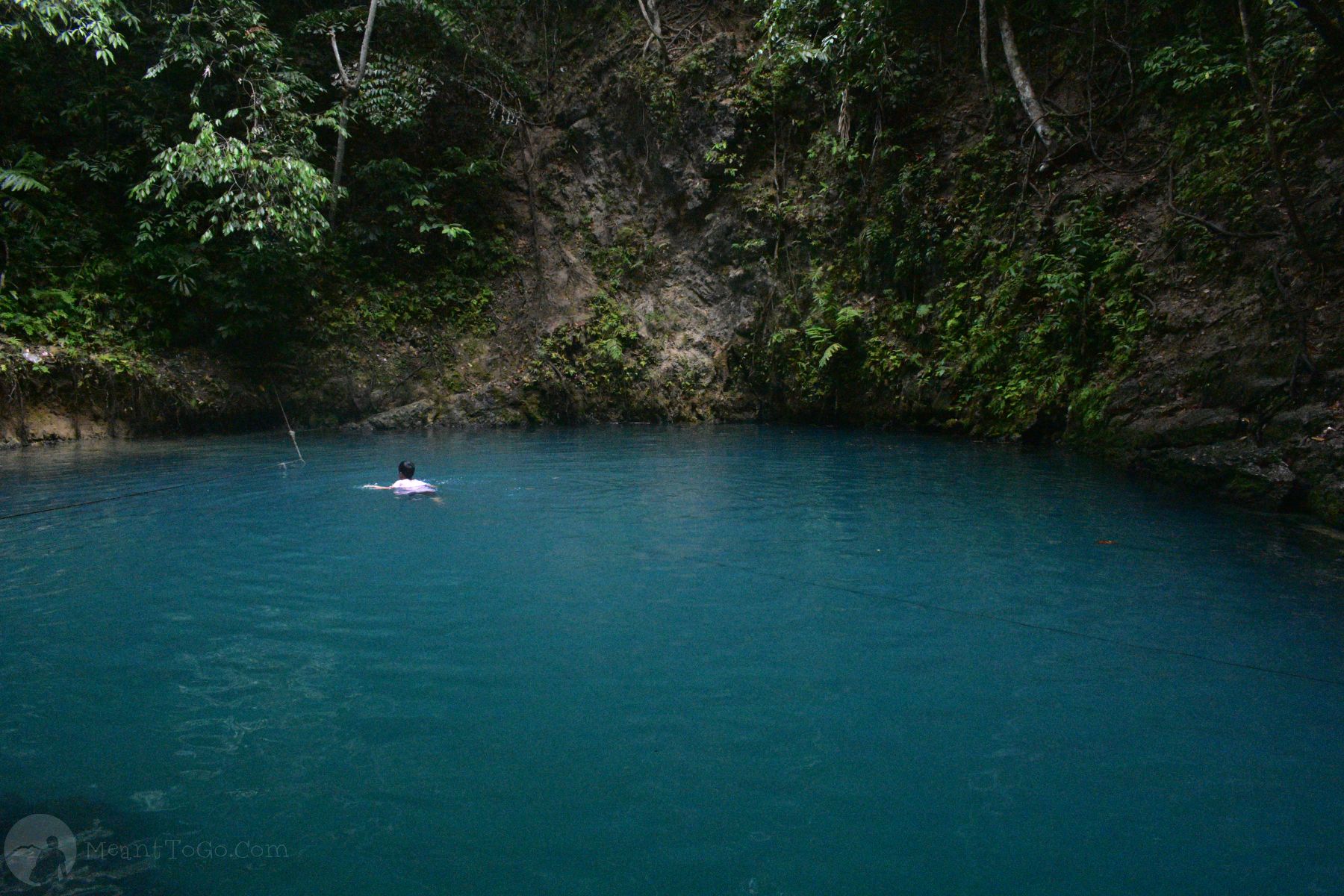 In all honesty, however, I had mixed emotions with the Canawa Spring. While I was in awe having such a wonderful attraction unfolded before my eyes, I also felt a little disappointment because a big portion of the place has already been developed. You could see man-made structures such as cottages, stores, rooms, among others already put in place. Even both sides of the river – to which the spring water flows – are already cemented, which makes the area appearing like a giant dike for irrigation. Well, actually it is. My driver told me that the spring irrigates a huge part of all the rice fields in Candijay – just like the Can-umantad Falls. Of course, I acknowledge that important function. But the fact remains that I love a place more when it is left unmodified with man-made structures. So, please understand my little disappointment.
So, what more about Canawa Spring that it continues to attract tourists, local and foreign alike? Aside from its enticing cold water, its round shape is also a thing to appreciate. From an areal perspective, it would look like a giant pan that has gone astray into the woods. That is why it is called Canawa Spring; the name was derived from the word "cawa," which is the local term for pan.
Another thing that boggles the mind of both the locals and tourists is its relative depth. Up until now, nobody knows the exact depth of the spring. Somebody would say it's 50 feet; others would argue it's 75 feet deep; while some others would say it's more than 100 feet; and some more would put it at the depth of sea level. But according to my reliable source (I am referring to my driver), a foreign tourist brought a measuring device in an attempt to measure its depth. The device exhausted its 200-feet length limit without reaching the bottom. Whatever.
Whether the above mentioned claims are true or not, let us just be contented with the fact that this spring is full of mystery.
Want some more?
I should mention as well this other thing that my driver told me. He said, if you are lucky, you could see some unique species of fish in the area. It would suddenly emerge from the bottom (my driver suspected that these creatures came all the way from the sea through the secret passages down the bottom of the spring). Again, I'd say, 'whatever!'
Overall, my visit to Canawa Spring was short but a fun-filled one. A worth-remembering experience, indeed!
Planning to include Canawa Cold Spring in your Bohol trip? The following information might be useful to you.
Entrance Fee
Adult – Php 20.00
Children (6-10 years old) – Php 10.00
Via Cebu Airport
If you want to follow my route, here's what you need to do:
From Mactan-Cebu airport, ride a bus (MyBus) bound for SM City Cebu (Fare: 40 pesos)
Ride a taxi at SM City Cebu to Cebu City Pier 1 (80 pesos)
Take a fast craft at Cebu City Pier 1 bound for Tubigon Port (250 pesos)
From Tubigon terminal, ride a van bound for Carmen (40 pesos)
From Carmen, ride another van that will take you to Alicia (60 pesos)
From Alicia, take a habal-habal ride (or jeepney) bound for Candijay, alight in Lungsod-daan (30 pesos)
From Lungsod-daan, you can hire for a habal-habal ride going to Canawa Cold Spring (100 pesos)
Via Tagbilaran Airport in Bohol
At the airport, take a tricycle ride bound for Dao Terminal (10 pesos)
At Dao Terminal, ride a bus bound for Ubay, alight in Lungsod-daan in Candijay (60 pesos)
From Lungsod-daan, you can hire for a habal-habal ride going to Canawa Cold Spring (100 pesos)
Note: When you visit Canawa Cold Spring, chances are that you are also going to visit the nearby attractions such as the Cadapdapan Rice Terraces and Can-umantad Falls. With that, might as well take it as tour package. Habal-habal drivers usually agree taking you to the three locations for only 250 pesos (haggle if you want)
Where to stay in Candijay, Bohol
Tour guide and Transport Information
Want to visit the Canawa Cold Spring? Roaming around should not be that difficult as there are lots of habal-habal drivers (can double as tour guides) who are willing to take you to the place and to more attractions in Candijay.
Or, if you want, you may contact Kuya Edwin Balahay at +63912-405-9855 (the habal-habal driver who toured me around Candijay with ease; he was very nice to me).