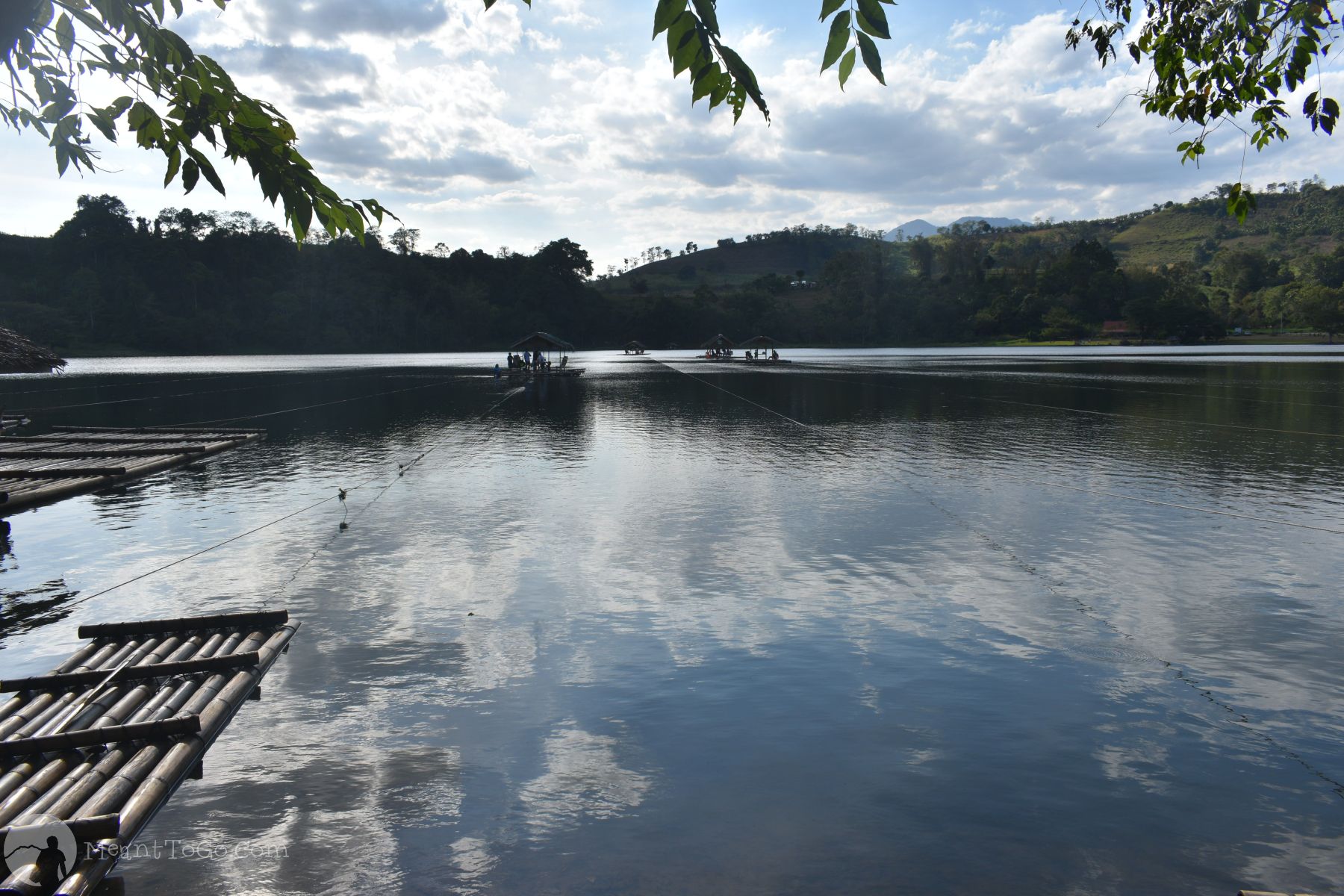 It was a great relief to have experienced the relaxing Lake Apo after traveling 5 hours on winding highways, over rugged mountains, and down to exhilarating slopes and valleys in Bukidnon. Don't get me wrong, avid readers. Of course, I enjoyed my bus ride from Davao City to this landlocked province. Seeing sea of clouds, wide plantations with artful patterns and breathtaking rolling hills stretching into the horizon was a real treat. However, the early afternoon heat was almost unbearable (not to mentioned the dusty habal-habal ride reaching there). And it was not summer yet.
I bet you can now imagine how happy I was the moment I arrived at Lake Apo.
Lake Apo is a crater lake located in Brgy. Guinoyoran in Valencia City (about 11 km from the city center). Surrounded by hilly terrain, it isn't surprising that this natural basin has accumulated a huge quantity of water that its surface area extends to as wide as 24 hectares. And, with a depth that reaches 26 meters below the surface, it provides a cool, relaxing interlude for visitors looking for a break from city noise and heat.
Whether you are going there for a day-trip or for an overnight stay, the place surely can give you the two faces of vacationing – the solace offered by being off the grid and the fun you get from the activities. You can enjoy heart-pumping water sports such as jet-skiing and kayaking or just let the day pass barbecuing on a floating bamboo raft.
It isn't just the lake itself that you can enjoy. The surrounding slopes blanketed with green shrubs and the expanse of woods that begins right at edge of the lake also give you a wonderful vista, a perfect backdrop for a calm and serene waters like that of Lake Apo's.
Lake Apo is perfect place for relaxation, which is best enjoyed with people who are dear to us.
How to get there (from Davao City)
From Ecoland Terminal, ride a bus bound for Cagayan de Oro; alight at Dologon Junction in Maramag (PHP 400+)
Take a habal-habal ride to Lake Apo (PHP 40 per person)
Activities
Bamboo rafting
Fishing
Jet Skiing
Kayaking
Swimming
Accommodations
Basic accommodations are available for a fee for those who are staying overnight.
Food
I would suggest that you bring your own food as there are limited number of food vendors in the area. However, you can also negotiate somebody to cook for you there for a fee. But then again, the menu might be limited.
Transportation
Public transport is also limited, so you might want to get the phone number of the habal-habal driver that gets you there.
Entrance
There are two areas than manage the entry in the area because, though the lake itself is public, the surrounding areas are privately owned. You can pay at either of the two entrances. One charges PHP 50, the other PHP 25. You choose. But then, if you come during a Saturday, the entry fee is waived.
Floating bamboo raft rental
PHP 330 (2 hours, but they actually let you linger more than that)
Communication Signal
Communication signal is scarce.
---
That's it. If you enjoyed reading, please share and follow us on our social media accounts.