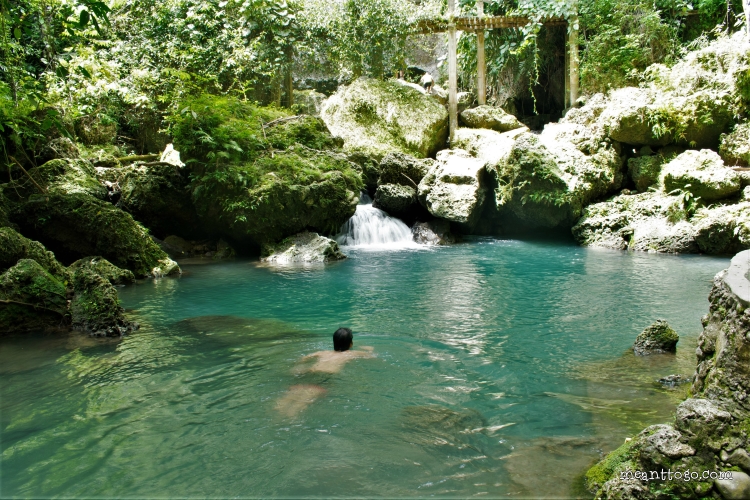 I heard a lot of buzz about Hagimit Falls in the past and that was the reason why I decided to visit the place to check it out myself. Actually, it was just part of the reason. The other reason was that I felt pretty guilty – of not patronizing our own 😀 . I mean, I've been to many (and farther) places for quite sometime but was not able to visit the place – even if I received quite a number of invitations from my friends in the past.
Because it was another long weekend, I thought it was a perfect time to visit this popular tourist spot. And so I did.
Hagimit Falls is located in Peñaplata, Island Garden City of Samal (ICAGOS). Although this attraction is within the province of Davao Del Norte, most of the tourists arrive via Davao City. That should not come as a surprise considering its (Hagimit's) relative distance (more accessible) from Sasa Wharf, which is the main port that brings people to Samal Island.
Hagimit Falls is not a usual waterfall. What I mean is, you cannot expect to see a waterfall that has the immenseness similar to Maria Christina's; instead, a number of relatively small waterfalls await you (about 3-5 meters high), which form part of the whole Hagimit Falls, cascading down the winding Hagimit River terrain.
Take a look at some of the photos below:
It should be noted as well that some areas have been enhanced by the resort maintenance team, so you cannot expect a 100% natural landscape. Nevertheless, the place in its entirety was a real treat. I'd say it's a perfect place for those who desire a weekend getaway to commune with nature. Indeed, a truly relaxing place.
ACCOMMODATION
You do not have to worry about accommodations as the resort offers a wide options to choose from – be it for a day tour or for an overnight stay – at affordable prices. Some of them are the following:
Open Cottages – 200-350 pesos per day
Tables and chairs (with umbrella) – 150-200 pesos per day
Closed cottages (for overnight stay) – 600 and up per day
ENTRANCE FEE
Adult – 50 pesos (main entrance); 25 pesos (to the water source – locally called as tinubdan)
Senior Citizen – 40 pesos; 25 pesos (to the water source)
Children 3-7 years old – 25 pesos
HOW TO GET THERE
You have a number of options to get to Hagimit Falls.
If you are coming from the airport (DIA), the best route would be:
To ride a taxi for Sasa Ferry Terminal (that should cost about 100 pesos).
From Sasa Ferry Terminal, you can reach Babak Port, in Samal Island on board a barge (costs only 10 pesos per ride).
From Babak Ferry Terminal, you can ride a habal-habal (local term for motorbike) that will take you all the way to the main entrance of the resort (fare is 50 pesos each, but if you are alone, you are going to pay for two, which is 100 pesos. But you can haggle – like what I did, I only paid 80 pesos)
If you are coming from the Davao City Proper, you can have an option to:
Take a bus at Bangoy St, Davao City to Peñaplata bus terminal (which is just right in front of Central Warehouse Club) via Sasa Ferry Terminal (ticket costs 50 pesos)
From Peñaplata bus terminal, ride a habal-habal that will take you to Hagimit Falls (fare is 25 pesos per person).