Just a few distance from the Combento Cave lies another exciting attraction that is frequently visited by both local and foreign tourists – the Cabagnow Cave. From the road, you just need to take about 200-meter walk following an unpaved trail amidst a dense greenery and towering coconut trees. You'll know you are almost there when you can already hear festive noise – that's most likely from the other tourists that have arrived ahead of you.
The Cabagnow Cave
The Cabagnow Cave is another unique spot in Bohol. Why? For one, though irregular in shape, the cave is like a big hole that opens directly from the ground (not like the usual caves where the entrance is through the walls). And, as my headline has stated, it's a cave pool! From above, you can see immediately its emerald-green water, indicating its relative depth. With its unique opening and the rough texture of its limestone walls and stalactites, the cave creates mystical feels.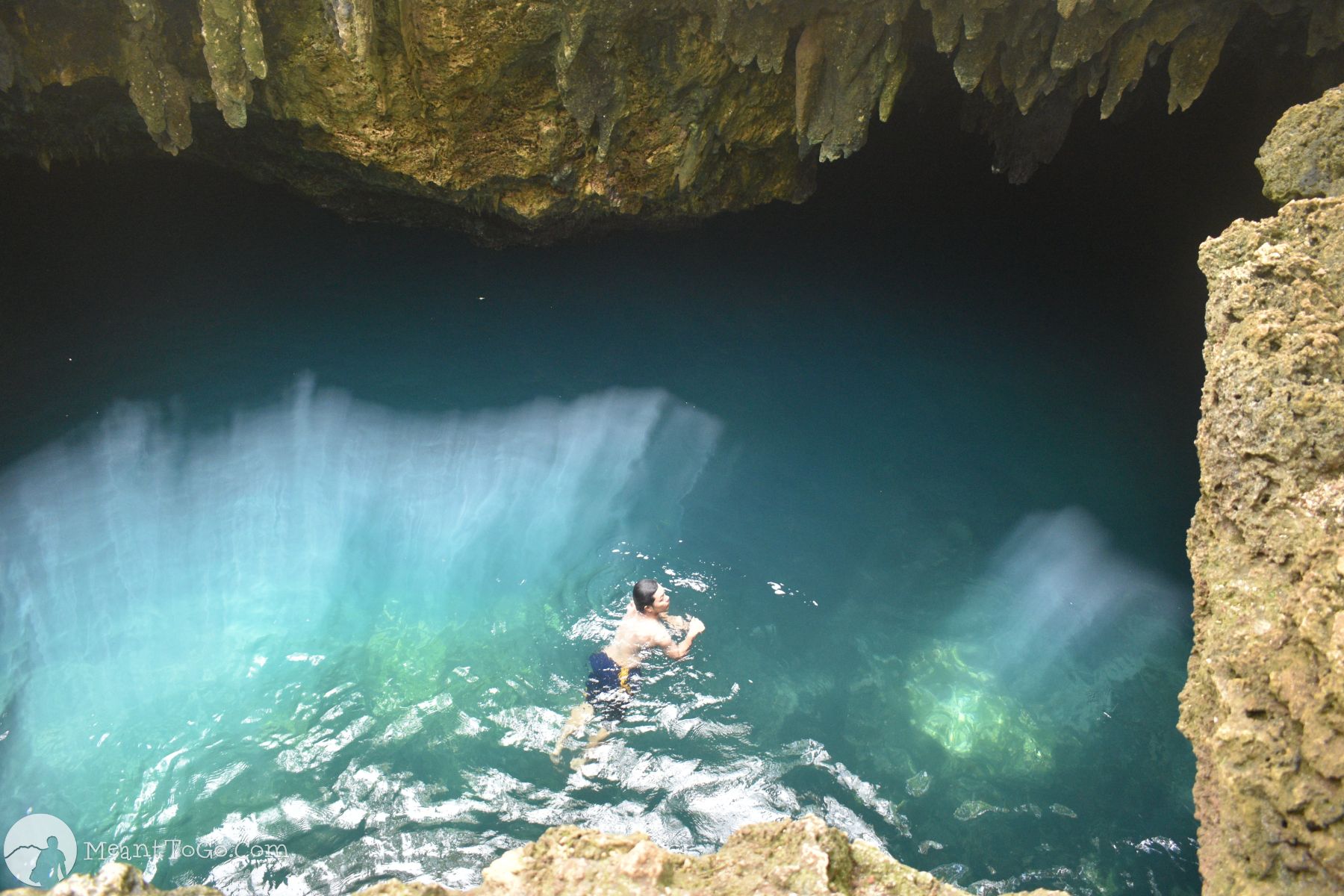 Another unique feature of this cave pool is that it has a number of extra spaces below. Hidden from the view above are passages that lead you to the inner parts of the cave. In fact, when you are already in the water, you will notice that what is surrounding you are spaces, separating the ceiling from the water surface. These spaces extend to – oh I don't know how to describe it – shall I say, to the realm of blackness and void.
Up until now, I don't know what exactly is in there or where those passages lead to. Some say there might be passages that lead to the shore. Whatever.I actually did not bother to think about it. I was just enjoying the water.
If you want to know more about these passages, then that's another reason why you should visit this attraction.
How to get into the cave
You can get down and climb up the cave pool through a metal stair attached to the wall. Or, if you want to go extreme, you can just take a plunge from above (like I did). No worries, it is not that high; my own estimate puts it at 15 to 20 feet from above. Plus, the water is deep enough, giving an extra room for you to execute your best stunts without getting injured. In fact, during my visit, I saw other tourists doing back-flips. 😀
How to get to Cabagnow Cave
From Tagbilaran Airport
Take a tricycle ride to Dao Bus Terminal

Take a bus ride bound for Anda
Alight at the corner going to Talisay Beach (your bus conductor should know where to drop you off)
From that corner, you can take a habal-habal (or tricycle) ride; tell the driver to drop you off the entrance going to Cabagnow Cave
Alternatively, you can take this:
From Tagbilaran Airport, take a tricycle ride to Dao Bus Terminal
Take a bus ride bound for Ubay
Alight at the Guindulman-Anda Provincial Road intersection
From there, take a habal-habal ride that brings you all the way to the main entrance of Cabagnow Cave (fare is 100 pesos – haggle if you want)
From Tubigon Port
Take a van ride bound for Carmen
From Carmen, take another van ride bound for Alicia
From Alicia, hop on a bus bound for Tagbilaran, alight at the Guindulman-Anda Provincial Road intersection (just tell the bus conductor that you are going to go to Anda)
From there, take a habal-habal ride all the way to the main entrance of Cabagnow Cave
Entrance Fee
The entrance fee is 50 pesos per person; no other charges to pay
Where To Stay In Anda, Bohol
Tips you might find useful
Be there early in the morning when there are still a few tourists around; the place gets crowded throughout the day, so make sure you can enjoy it before more tourists arrive
Do not litter. Dispose of your trash properly or bring them back home with you
The stair and other parts of the cave can be slippery, so make sure you are careful
Be mindful of the environment; be a responsible tourist by not bringing home with you any stuff from there as memorabilia, most especially if it is prohibited by the local authority.